First, let me say upfront that I am a Seahawks fan – yep, one of the 12! What's more, the Seattle Seahawks are a customer of Rival IQ. So I go into this blog post unashamedly biased. That being said, I did attempt to step back objectively and see if there were some key social media best practices used by the Seahawks' and Patriots' marketing teams that could help us all do our jobs better.
The answer is yes. While I'm sure the social media teams at these two NFL organizations struggle with the same challenges all marketers have in trying to improve their content, engagement and impact, they do have one advantage: a winning product everyone wants!
Top social media best practices from the Seahawks and Patriots
I go through each of these in more detail with examples below:
Be active where your community is
Focus on the customer to get engagement
Leverage your influencers
Use human interest images
Create real-time interactions
Have some fun
Let your brand and personality shine (hashtag)
1. Be active where your community is
We all struggle with too many social media networks and too little time and people. Looking at the social emphasis of these two NFL teams reminds us to focus on the channels where our community is hanging out the most, and then be active on those channels.  In this case clearly Twitter and Facebook are must haves, followed by Google+ and Instagram.

For the week going into the Super Bowl, it appears the Seahawks are more active than the Patriots, with the Seahawks posting 507 times across those four social networks compared to the Patriot's 250 posts.  You can see the gaps by network even more clearly below, with the Seahawks posting on Facebook an average of over 10 times per day and on Twitter 51 times per day.  (Let's hope that translates into yardage gained on the field! he he). This doesn't mean that you need to post as frequently, but the social media best practice here is knowing how often to post based on your market and audience.
2. Focus on the customer to get engagement
Both of these teams are blessed with some rabid fans, and the social media teams know to give those fans plenty of post time. Here are just two examples from the most engaging Facebook posts over the past week, where the teams both thanked their fans for the amazing send off to the Super Bowl. You can also see the number of fans on Facebook for each team, with the Patriots rocking Facebook with nearly 6 million Likes, and the Seahawks pulling in over 3 million Likes.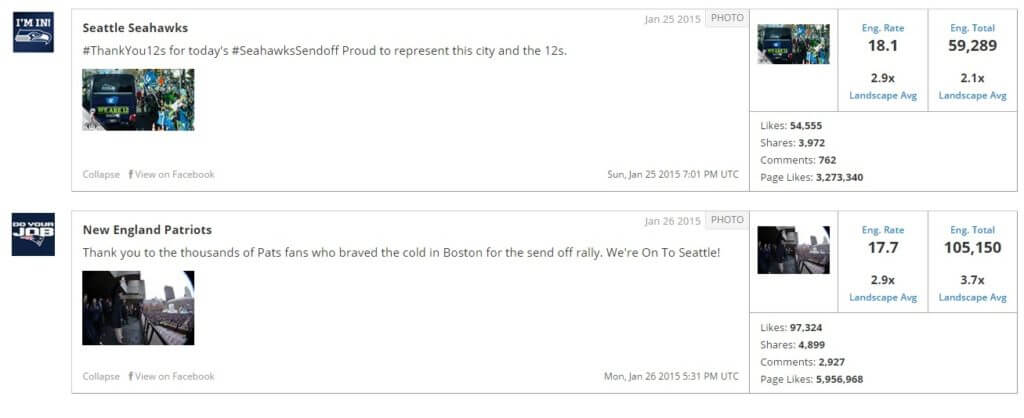 What you can learn from this is to remember to thank your customers on social media. If you can't name them, then share customer quotes, or every now and then just talk about what great customers you have.  The point here is also not just talking about yourself. Every social media expert will tell you to do self-promotion maybe 10 to 20% of your posts, and leave the rest to talk about other people, trends or topics that are interesting and helpful to your customers. It all goes back to the customer.
3.  Leverage your influencers
Whether your industry influencers have a few thousand or several million followers on social media, you want to make sure you are taking full advantage of the moments when they talk about you on social media. Now I realize we are not all so fortunate to have ESPN and Macklemore talking about us on social media like the Patriots and Seahawks do, but it's relative. Start with whoever you have, thank them, retweet them and further your influence with them, and then build up more influencers and relationships over time.
It's always better if other people talk about how great you are than you doing it yourself!
Here's my personal favorite influencer tweet for the Super Bowl by Seattle rapper Macklemore for the Seahawks. With more than 2.6 million followers on Twitter, Macklemore is helping spread the Seahawks message. This tweet alone received 242 retweets and 745 favorites.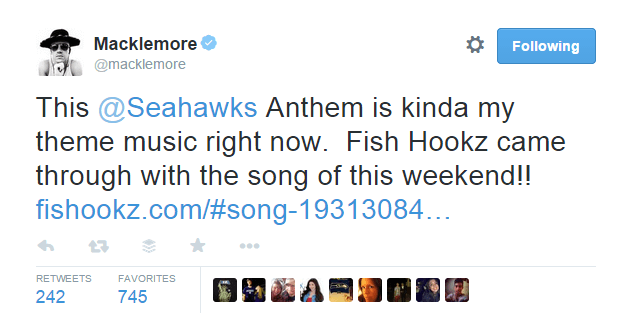 4.  Use human interest images
I am reminded every day when I look at the analytics of the most engaging social media posts how images can make all the difference. These two teams, and their players, do a great job of really using compelling images of players, staff, cheerleaders and fans to draw greater engagement and following. And nowhere is this more important than on Instagram.  While Twitter and Facebook might be seeing greater fan bases and activity, the teams are both seeing a fast-increasing level of engagement on Instagram, especially for the Patriots. I guess those New Englanders really love their pictures.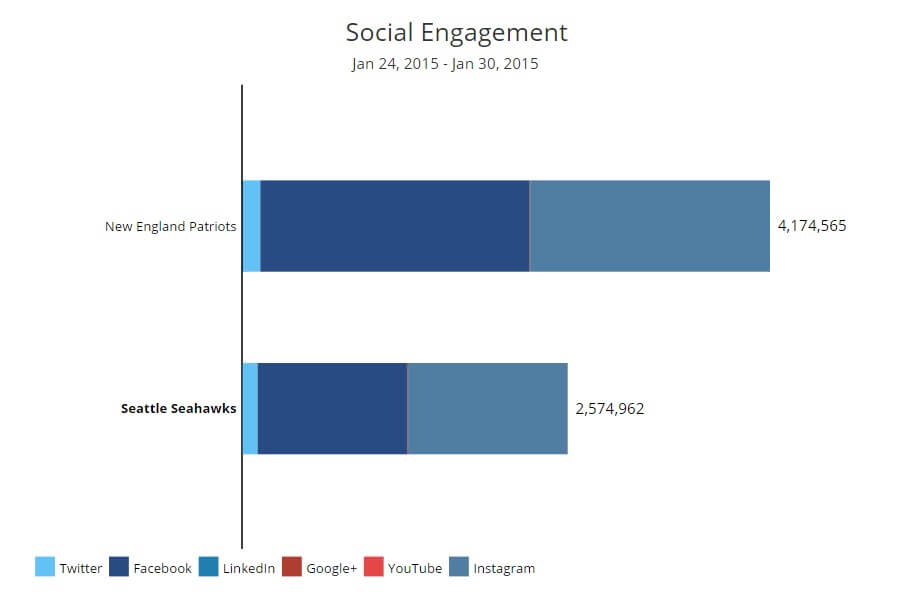 One of my favorite examples from the past week is this heartwarming photo of Robert Kraft & Bill Belichick at the Super Bowl Send Off in Boston. How can you not love a sport that makes big old men cry, unless all that emotion was coming from the deflate-gate scandal. (sorry, couldn't resist).

Another engaging Instagram post from the Seahawks was this amazing American Indian-inspired Seahawk outfit, which drew over 60,000 likes and 877 comments. What can you post that will excite your followers?

5.   Create real-time interactions
While some social media does not need to happen in real time, it's great to use social channels to communicate the excitement of an event the moment it is happening. This draws your audience in, and makes them feel like they are part of your world. Sure, football might be more exciting than your product, but think about ways to create real-time interactions. For example, if you go to an event, participate in real-time chat going on via Twitter. If you win a new customer, then create some excitement on social media.
Funnily, the Patriots and the Seahawks used the same real-time interaction with their fans, posting a photo from the airplane window to tell everyone they had landed in Arizona! These were top 2 most engaging tweets of the past week, and while the images were not that beautiful, it was the real-time flavor of the message that gained engagement. Notice also that both teams used the hashtag #SB49 to reach beyond their own follower bases. Smart!
Seahawks won big with Katy Perry taking a personal interest in the Super Bowl. This tweet of her with some fans is a great example of influencer relations, real-time interactions and the next best practice, having some fun!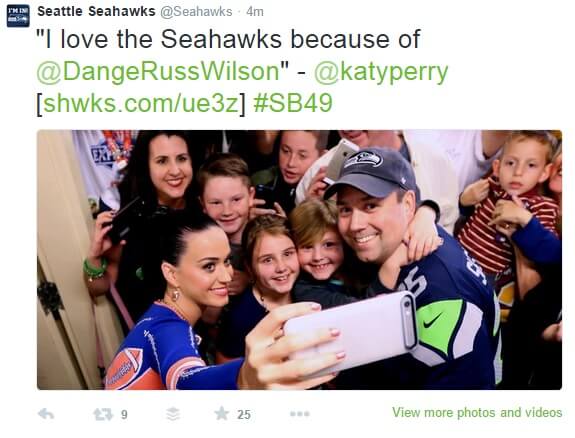 6. Have some fun
We all know football is serious business and a big revenue generator, but on social media, your fans want to have some fun now and then. The Patriots did a great job of this on Instagram with a Super Bowl selfie!

While it's great to provide serious information and tips, don't be afraid to let some fun shine through your social media posts. Of course, the humor you use needs to align to your brand personality and your target customer. Not everyone can use the same type of humor as football players.
7. Let your brand and personality shine
Retweeting is great for engaging and creating community, but make sure you are doing posts that show what you or your company cares about. If you don't know what your brand personality should be on social media, it's time to take a "time out" and get the marketing team together for a regroup on positioning and messaging.
Examples of personalities could be helpful, funny, empathetic, an expert, controversial, professional, and many others. And make sure your personality doesn't sound just like your competitors. There's nothing worse than a market where everyone sounds the same.
Whatever your personality, distinguish yourself and let it shine on social media, just like this post by the Seahawks about the recent Sports Illustrated cover. The personality of the seahawks is that they are a team. Even though Richard Sherman, Marshawn Lynch, Russell Wilson and others are seen as "stars", these leaders are always talking about the team.

Time for You to Go Into Social Beast Mode!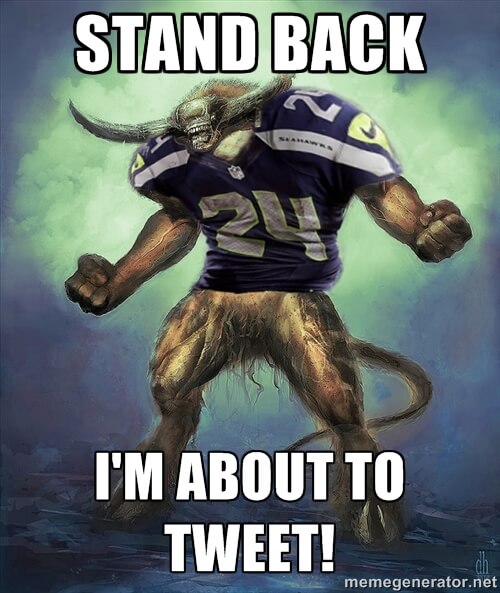 Winning on social media takes hard work, creativity and discipline. Not so different from football. I hope you'll take these best practices borrowed from these Super Bowl teams and put them to work for you and your organization.  I close with . . . . #GoHawks