The Unique Power of the Social CEO
Over the last five years, CEOs have been making an appearance on social media. This rise of the social CEO is changing the way companies market their business and build their brands.
The Social CEO has a unique power that can boost the reputation of any company. CEOs who interact online through Twitter, Facebook or Linked can build relationships with their target audience and put a face to their company, their strategy and their leadership.
One of the best social CEOs is John Legare of T-Mobile. He uses his personality, humor and leadership to drive conversations. He also knows where his target audience is, focusing on Twitter and Instagram. And he has over one million followers – not bad!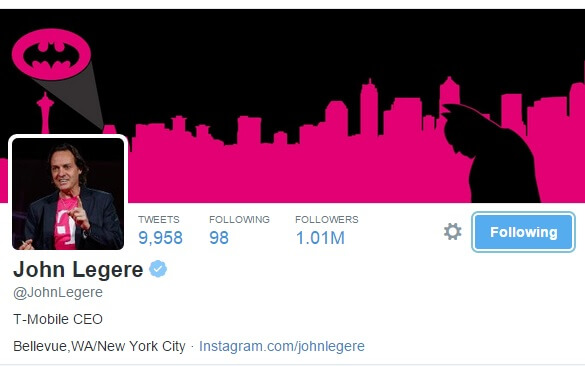 As you can see in the Infographic below, analysts expect CEO engagement on social media to double by the year 2017. CEOs who engage on social media are able to show a more personal side of the company and add value to the company's marketing strategy. Additionally, customers who interact with CEOs on social media are more likely to trust the company and want to make a purchase from the business.
Include your CEO in your social media strategy
When planning your social media strategy, it's important to think of ways you can get your CEO involved. Especially if your CEO doesn't normally use social media, it's important to find a way you can leverage their voice online. Whether it's creating a social media profile or a CEO Facebook page, think of the best channels for sharing your CEO's voice online.
Social CEOs can talk about a variety of topics online. From product launches to industry-related news, social CEOs can use their voice online to become an industry thought leader. Not only will this boost the reputation of your company, but it will also bring a more human voice to your business.
There are a number of tools social CEOs can use to share their voice online. Social media management platforms such as Buffer and Hootsuite can help CEOs manage their social media accounts and consistently post content online. These tools also help content marketing teams manage the CEO's social profiles when needed.
Social CEOs are changing the way brands build their reputation online.
To learn more about social CEOs and tips for creating a voice online, check out the following infographic:
The Social CEO – An infographic by the team at Rival IQ
Embed The Social CEO on Your Site: Copy and Paste the Code Below