It's no longer enough to know who your audience is, narrow down what kind of content they love, and then rinse and repeat.
Rather, you have to command attention; you have to cut through the noise of your competitors to reach audiences that are chronically inundated with ads and branded content.
Luckily, with so many new features added to the top social platforms on a regular basis, you have a lot of options. Use the following social features to cut through the noise, engage with potential customers, and build a stronger, more effective brand presence.
Tell a Story and Be in the Moment
Storytellers are turning to video in 2017, from big brands to influencers and social media power-users. Social media platforms are responding, each with their own version of video storytelling. Here are a few ways to cut through the noise with some of the newest and most popular options.
Instagram Stories
Snapchat saw an 82 percent decrease in growth when Instagram Stories was released. Instead of wasting time on Snap, head back to Instagram, where you likely already have a presence to capitalize on. The key is figuring out how to stand out with the new feature. Here are a few ideas:
Keep branding and style consistent with the rest of your Instagram page.
Use Stories to feature content with a short lifespan. Think: sale announcements, event and live coverage, product and company updates, and industry tips from people within the company or organization.
Have fun. Stories are informal and can be a great way to entertain your followers in a way you don't on your page.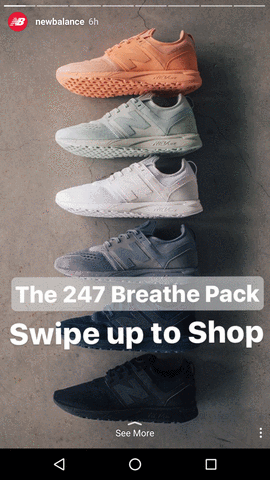 Twitter Moments
The average half-life of a Tweet is 24 minutes. With Twitter Moments, you can cut through the clutter and get more eyes on tweets that seem to disappear into the Twitter chaos.
While little public data on the number of people who view Twitter Moments, Mashable reports that the feature has experienced substantial growth. "[Andrew] Fitzgerald, Director of Curation for Twitter, did not provide specifics, but categorized the tool as having 'grown enormously' and having 'built a larger audience in one year than most major digital properties have grown in 10.'"
This personalized "feed" allows you to showcase your best tweets, promote a product, service or event, and even highlight users who are tweeting about your brand. Fitzgerald told Mashable that the most popular categories for Moments are news and trending hashtags, so keep that in mind as you curate your feed.
Test Next-Level Social Ad Features
Social media has become a pay-to-play arena for brands. With changes in Facebook and Instagram's algorithm and newsfeed, it's getting harder and harder to earn engagement with organic posts.
However, with the sheer size of these social platforms' user bases, businesses can't ignore them as a marketing tool. Spending money to target your audience, and put your brand in front of them is quickly becoming the norm for organizations of all sizes.
Here are some new features that can help you cut through the noise.
Facebook Ads and Marketing Features
Video ads: Video is the name of the game in 2017, and you can use it to capture the attention of anyone who sees your ad on Facebook. While not a brand-new feature, it's likely one that many businesses haven't tried yet.
Product tagging: You can now tag specific products from your shop tab when uploading images. This subtle way of calling attention to your products may be preferred by audiences jaded by ads and sponsored posts.
New ad insights in reporting: New features like the auction overlap tool and improved "results predictions" make it easier to see why some campaigns are working and some aren't. You can better pinpoint issues in audience targeting, overlapping ad sets, and much more, allowing you to be efficient with ad spend and reach.
Multi-product ads: This new marketing feature allows you to create one ad for a variety of products/services/content pieces—rather than having to build multiple ads for each one. AdEspresso shares seven fun and useful ways to use this ad type.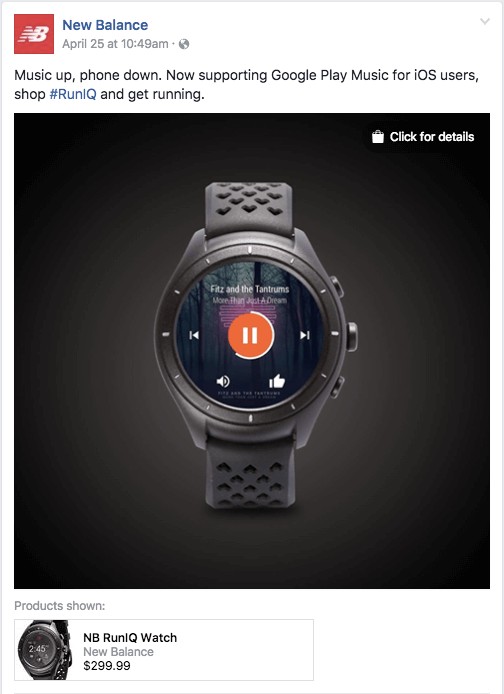 Look out for updates and changes with the new Facebook camera interface. Being a new feature, you can be sure that what you see now is only the beginning. Custom, branded frames and effects are coming soon, according to a Facebook Product Manager.
Instagram Ads
Feed ads: There are five types of ads you can run in the Instagram feed, including carousel, single image, single video, slideshow, and canvas. Ads can help you stand out in Instagram's new(ish) newsfeed while driving leads to product and service pages.
Story ads: These function exactly like a regular story post, except they play between other users' stories. Because your story ad is "disappearing" (only lasting for a few seconds and users can't go back and re-watch), it's important to make branding front and center, with a large logo and clear CTA. With 150 million daily users on Instagram Stories, it's an option worth considering if you're finding that organic stories aren't reaching your audience.
LinkedIn Ad Options
LinkedIn has revamped their marketing opportunities for brands, and there are two important options to test.
Website Retargeting: You can now use LinkedIn for website remarketing, targeting those who have already engaged with your brand online, and are also users on LinkedIn.
Sponsored InMail: This unique ad offering allows you to get in front of LinkedIn users via InMail. The process is simple: Build your audience, create a personalized email with CTA, and start the campaign. Check out LinkedIn's overview video for more information on getting started.
Customize Your Facebook Page With Templates
Facebook recently rolled out new template profile options for business pages, with built-in features that allow you to showcase your business most effectively. Templates include:
Standard
Business
Services
Venues
Nonprofit
Politicians
Restaurants and Cafes
Shopping
Each one uses different buttons and tabs to highlight the most important parts of your business and drive engagement. For example, the "services" template highlights the shop, service listings, reviews and offers tabs while the "restaurant and cafes" includes events and jobs, which may be more applicable to this industry. This allows you to capture the attention of a visitor and immediately direct them to the most important areas of your page, reducing the friction of an unorganized page.
The world of social is changing at lightning speed. Luckily, many of the newest features are built to help businesses reach their target audience. Use them to cut through the noise and get in front of the people who care most about your brand and what you have to offer.