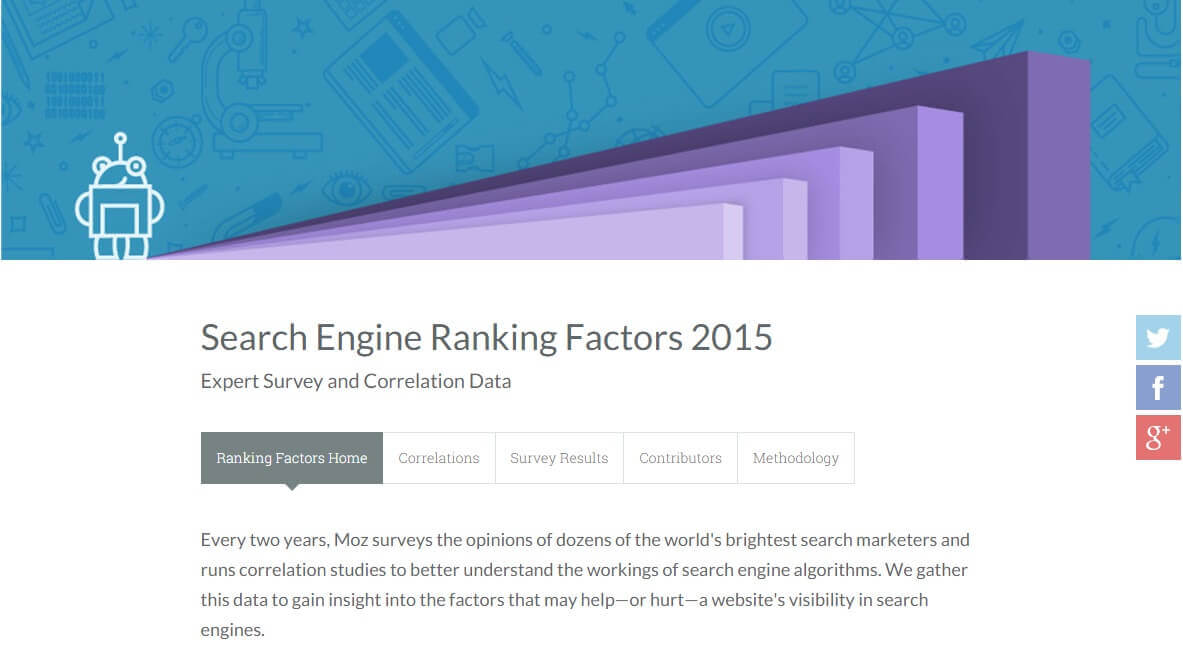 If any of us truly understood all the facets of search ranking, we'd be able to get page one rankings for any website, and rule the SERPs. While we don't ever really know the secret Google sauce, we can lean on the advice of industry experts to fine-tune our search engine optimization (SEO) skills.
Moz recently released their 2015 Ranking Factors study, seeking to determine which page attributes are closely associated with a high Google rank. The two-part study surveys professional SEOs and then looks at correlation. With more than 15,000 data points and 170 attributes measured, it's about as close to truly understanding search ranking factors as we'll get. Moz conducts this study every two years, to better understand ever-changing search algorithms.
SEO Ranking Factors: What actually matters?
The Moz study looked closely at a variety of attributes, including: links and anchor text, page load time, and keyword usage. The correlations revealed interesting results, but correlation is not causation.
Correlation data showed little correlation between ranking and the: domain extension, on-page keyword use, and using https. It showed a positive correlation in instances of relevant anchor text, the number of referring domains, low bounce rate, and number of social shares.
Links:

Link quality matters. You'll get credit for all links except for those marked "nofollow" or blocked with other methods, but they don't all count the same way. Link quality depends on a variety of factors – but typically, links from large, respected sites, and topical/niche relevant links weigh more.

Content:

Without a solid foundation of useful content, you're wasting time on SEO. Of course, that content needs to be written naturally for the reader, but it also needs to include keywords people actively search for.

Social Signals:

Creating a social media account is not enough. The

results of your social activity

matter: increased visibility, links, and other impact metrics help increase your web rank.
Common SEO Ranking Factors Myths
Myth #1: There Are 200 Google SEO Ranking Factors
Perhaps the biggest myth out there is "the definitive list of 200 Google ranking factors." You can find clickbait lists all over the web with a quick search, most of them are based on speculation, correlation, and guesswork. What's the truth? In 2010, Google Guru, Matt Cutts, said Google relies on more than 200 ranking factors, but each factor can have up to 50 variations.
Myth #2: Ranking & Indexing Mean the Same Thing
False! Indexing is a core part of how search engines work; the process of finding and mapping everything on the web associated with a word or a phrase. No SEO can do it. Indexing is used to determine what resources to suggest, not what order to suggest them in. Ranking comes in the final phase of indexing, to benefit search and return more relevant results.
5 Predictions About the Future of SEO Ranking Factors
Again, no one can say with 100% certainty this is what the future will turn out to be, but the general consensus of 150 search experts places increasing emphasis on:
Mobile Friendliness:

In May 2015, Google said there are

more mobile than desktop searches

in 10 countries, including the U.S. and Japan.

Site/Page Perceived Value:

The more valuable your website is to customers, the better your rankings.

Quantity and Quality of Answers Provided in SERPs:

The more you're doing to answer your users' questions, the better. It's not just about quantity anymore, it's also about the quality. Don't forget!

Usage Data:

The more pages a user browses through, and the longer they stay on your site, the better. This signals your website is a good source of information, and users are finding what they need.

Readability+Usability+Design:

The easier it is for your users to read and use your website, the better.
Experts believe things like the topical relevance of links, social signals, and internal links will continue to influence ranking, but they predict the effectiveness of paid links and optimized anchor text to decrease.
Google recently patented "watch time" as a search ranking factor, suggesting they may use it to rank video content in the future.
Essentially, and what could be in a bid to keep users happy, the things that will continue to matter all boil down to user experience.
Take Action and Improve Your SEO
To improve your SEO, focus on creating high quality, informative content your readers will benefit from. Google is a business with customers to serve, just like you are. They want to deliver the best possible results to their customers, to keep them happy and coming back for more — and that's what you should aim to do, too.
Since content is only one piece of the puzzle, don't let other elements of usability fall by the wayside. Make sure your website is responsive and easily viewed regardless of device. Test your website for readability and usability. Use heat mapping to see where your users are clicking most often, and pay attention to how long they're spending on each page.
If users aren't clicking where you want them to click, or aren't spending enough time on your pages, split test some changes. Move elements around so they're easier to find in areas users are drawn to on the page. Move the most important content above the fold so users don't have to scroll to find what they're looking for.
Ultimately, high rankings come with consistent, targeted, efforts. This is yet another case of slow and steady wins the race.