Despite being part of the social media scene, Google+ is still a mystery to many business people. You probably already have presence on Facebook, Twitter, Pinterest, and Instagram, so why should you bother with another social media channel?
Google+ is the only social network that can directly impact your SEO.
Competitors have lodged complaints for years that Google favors its own products in search results. Any truth to that? You tell me. Here's a screenshot of a search for Analytics: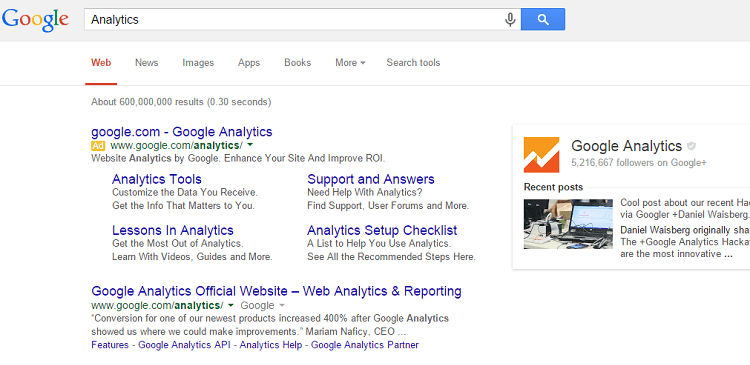 Not too far down on page one, I find two Google+ results from Semrush.com: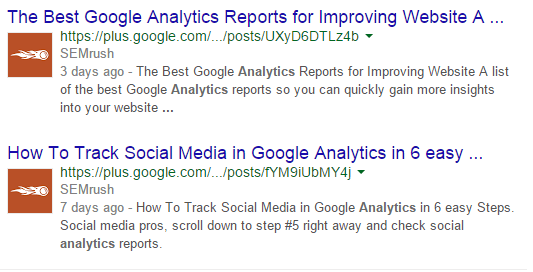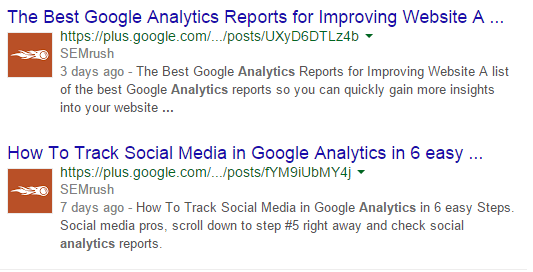 You're reading that right. Semrush's Google+ shares scored higher in the rankings than the original posts – at least on the results pages of followers. Convinced? Let's talk about how you can leverage that power to connect with your community and extend your reach.
Building Google+ Circles
Circles is just a fancy name for groups. Your circles may designate how you know the connection (friends, co-workers), who they are (bloggers, industry influencers), or where you met (for example, you might have a circle named for a conference you attended: SXSW Contacts ) – whatever makes sense to you…as long as it's flattering. No one wants to be just a customer.
If you're already active on other channels, building your Google+ network will be easy. Connect your accounts, place share buttons on your website and profiles, and invite people to connect. Grow your following (and your reach) by connecting with industry leaders, influential people, and bloggers.
When your circles are accurately defined, you can target your posts to all or to some – to avoid flooding customers with inappropriate content, like news that will only interest the professional network within your industry. 
Google+ Collections
On May 4th (May the fourth be with you), Google announced Google+ Collections. It's a great way to group your content to make it easier to browse. It works a lot like Pinterest. I'm currently obsessed with this dessert collection. When you make a collection, it shows as a tab on your profile page.
Treat Google+ Collections like a visual medium. Top collections feature stunning graphics. "A Beautiful Earth" has more than 8 million followers.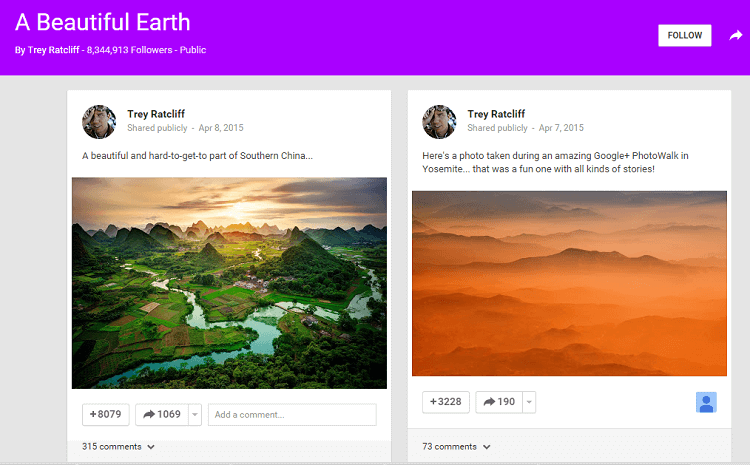 Before you say "but my business is boring," check out the Physics/Cosmology collection by Sean Carroll, physicist at Cal Tech. He blogs about neutrinos and the Large Hadron Collider. To more than 68,000 fans.
This is an opportunity worth optimizing. My advice is to make a collection and fill it as fast as you can while the feature is still brand new. If you make it to the featured collections page, you'll get a huge boost of followers.
Google+ Communities
Much like Facebook groups, Google+ Communities are forums for groups of people to discuss shared interests. You can create a community for your business or industry and/or join an existing community.
Look for the Communities link in the dropdown menu on the left side of your Google+ profile page.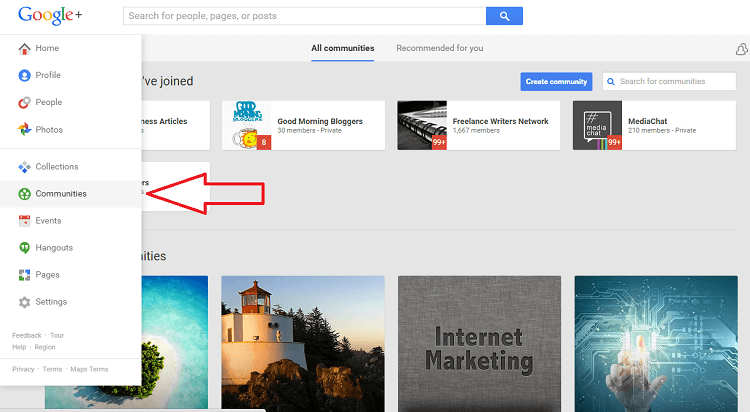 Google+ Hangouts
You can use Hangouts to text, video, or voice chat with up to 9 people, so it's great for company meetings and chatting with clients. What's cool about it is that you can record your discussions and publish them to Youtube. It's a great way to let customers get to know your staff, especially if you use it to discuss new features or brainstorm ideas, and then ask viewers for input. 

Recorded meetings can be used in-house for training or to bring lower-level employees up to speed on management initiatives.
Did you know you can livestream using Google+? Use it to make announcements, live vlog an interesting conference, or just chat with your audience.
Google+ Marketing Tips & Tools
1. Google+ Helper Extension for Chrome
If you're using Google Chrome, the Google+ Helper Extension gives you and your friends and employees an easy one-click share to Facebook and Twitter, along with new post notifications.
2. Google+ Profiles vs Pages
If you haven't set up a Google+ business page, it's a good idea. You'll be able to assign administrators to help keep the page active and use it to cross-promote content from both the business page and your personal page. But there are some constraints. Business pages can't use +1 and can't add people to circles until they either mention the page or add you first.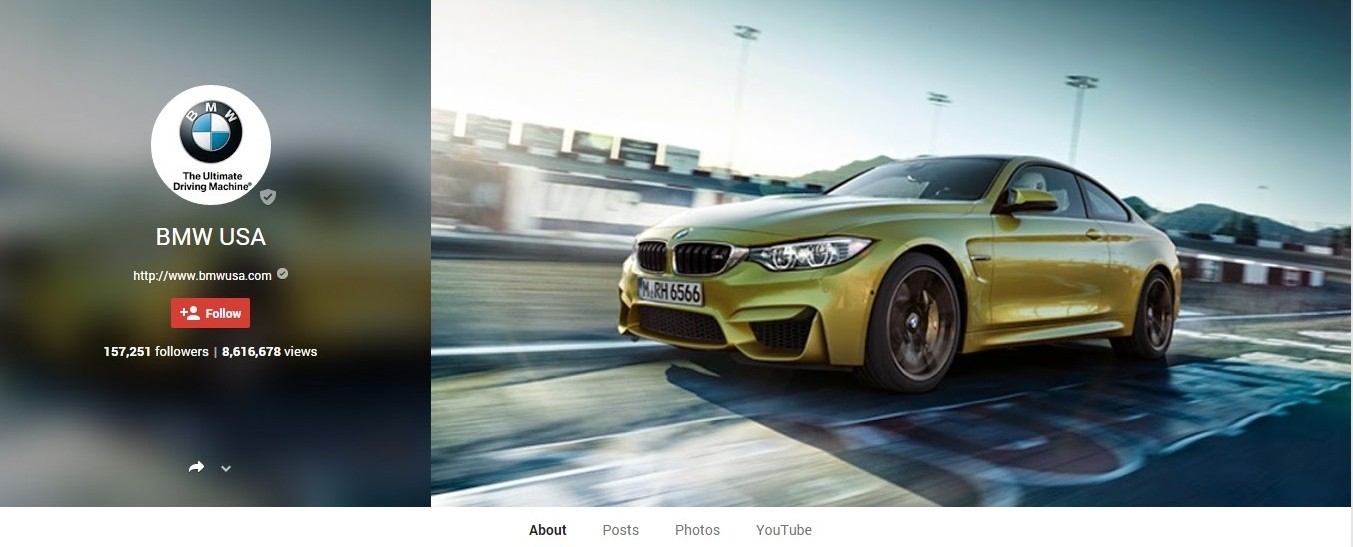 You can be more proactive with your personal profile by adding people and business pages to your circles and giving a +1 to content. Building your individual audience gives you the opportunity to cultivate a more personal relationship and pull in new fans to the business page.
3. Custom URLS 
Late last year, Google+ started offering custom URLs to replace those long, awful numbers. Https://plus.google.com/u/0/+Rivaliq/posts is far superior to the old formula https://plus.google.com/u/0/+836582947209387/posts –and it makes you easier to find.
4, Page Design
Choose your page design carefully for visual impact and brand reinforcement, and use the Google+ cover photo template to ensure that your graphics scale properly across devices.
5. Use Hashtags and keywords 
Making your Google+ posts SEO friendly will help you place in the search. To maximize impact, give each post the same careful consideration you'd give to a meta description for a web page. The first sentence or two will show in the search as part of the title tag. Make it count!
6. Google+ is integrated with Gmail
With this integration, when you email your list, Gmail users see a Google+ follow button.

The thing Google does best is provide a rich, immersive experience. The goal seems to be "all things to all people." If you're not using Google+ to grow your business, you may come to regret it. Social media comes and goes (remember Myspace?) but Google is unlikely to get old because it evolves and adapts to market changes. That's why it's a smart social media investment.