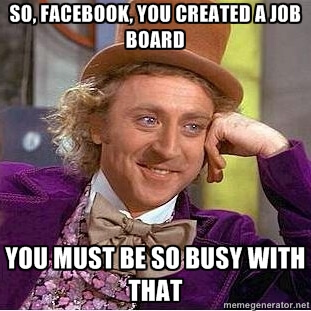 We all use social media to get our daily news of the world and our friends, to build awareness for our companies and products and, increasingly, to drive revenue. But the job market is going social, too, and social media has become a great way to search for jobs and find great talent. This is especially true in the tech industry.
The increased demand for amazing tech talent (and the seeming lack thereof) has shifted the landscape from traditional recruiting methods to online practices, and perhaps in the future, to an environment where recruiters are obsolete.
5 reasons why the job market is going social: 
1. Highly talented individuals have to beat recruiters away with a stick. If you have a specific set of skills, you're probably getting bombarded with emails, InMails, tweets, and anything and everything in-between from hiring managers and recruiters trying to get in touch with you. Sometimes by the same recruiter. Day after day. For weeks.
2. Traditional Recruiting/HR companies aren't providing enough of a return on investment. I think this is especially true of ATS/HRIS providers. It seems like they do everything they can to lure you into using them, and then when you sign a nice, long contract with them – they move onto landing someone else. Once they've got you, their customer service disappears, and they make it nearly impossible to leave. You're stuck with them until the contract runs out, no matter how awful the product is and how unhelpful their customer service is.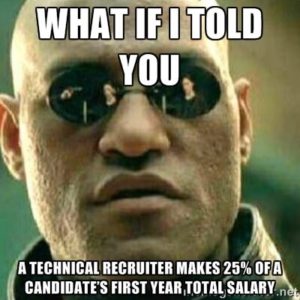 3. Startups don't usually have the luxury of paying big recruitment fees. When you hire a candidate through an agency/headhunter/recruiting firm, you can get charged 25% or more of the prospective salary. Let's say a recruiting firm just found you an amazing developer, and you've budgeted $100k for the salary. You could be adding another $30k on top of that for the recruitment fees.
4. It's sometimes easier to use your own network and social connections. As we all experience the narrowing of our six degrees of separation to two or three, we are finding it easier to leverage our own social networks to find great candidates. One person I know posted a job on LinkedIn (not paying any "promotion" fees) and received 105 applicants within three days. You can laugh when recruiters call you during that experience!
5.  We don't have the time.  The up and coming generation isn't a sit and wait group, nor do tech companies want to wait weeks to find new talent.  Both sides want to move fast and figure out quickly if it's a fit or not.  This is also why we are seeing more tech companies doing "auditions" with developers, where both sides can date before they marry without wasting much of each other's time.
Who's adapting to this shift and winning business?  
There are some online alternatives popping up, sort of a "new guard" trying to change the game. I think it's working.
Here are some examples of startups helping startups, and companies who are rewriting the book on how to find amazing talent.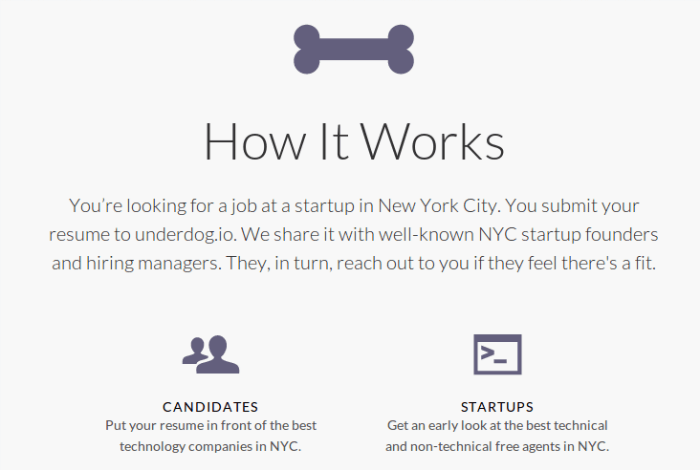 These folks are familiar with both sides of the fence. They used to be in charge of hiring for startups, and now they're helping candidates apply to New York's top startups – in just 60 seconds. It's a great two way street that completely eliminates recruiters. You sign up and submit your resume. They put it in front of the faces of Hiring Managers from the best startups in the Big Apple.
So how do they bring home the bacon? It's basically set up as a subscription service, where they charge the startups that are using the service a flat monthly fee. However, the company now also gives clients the option of a 10% placement fee, after customers asked to follow the traditional budget model (sometimes it is hard to teach old dogs new tricks). Even though they do offer the option to pay a placement fee, the Underdogs are not the biggest fans of this model.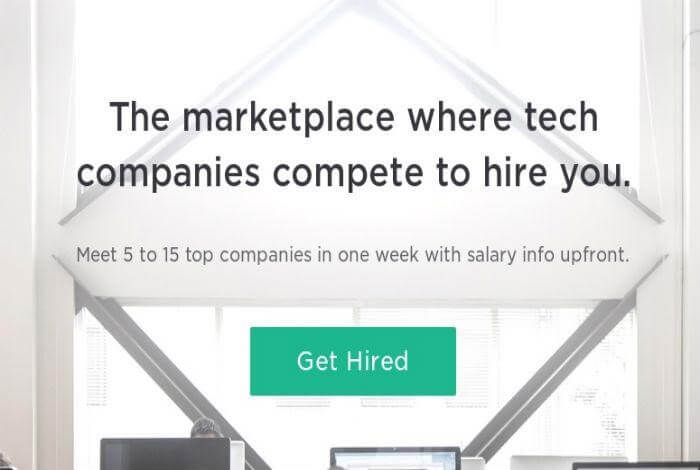 Another "marketplace" type approach, Hired lets you "meet 5 to 15 top companies in one week with salary info upfront." How do they do it? When you sign up, you're essentially put up for auction for one week. During that time, tech companies compete for your services.
All salary information is provided upfront, and all recruiters are eliminated. When you land a job, they also throw in a signing bonus of $2,000. Sounds way better than working with a recruiter who says they will "get your information over to the hiring manager".
Hired's pricing structure is somewhat similar to traditional options, but with a steep discount – they charge only 15% of the hire's first year base salary, with a 100% money-back guarantee for 90 days. Alternatively, they offer an option of spreading out the payments for 24 months, with 1% due each month. Although the second option does start to come close to the 30% that is traditionally used, it makes much less of an impact because it's spread out over a much longer duration.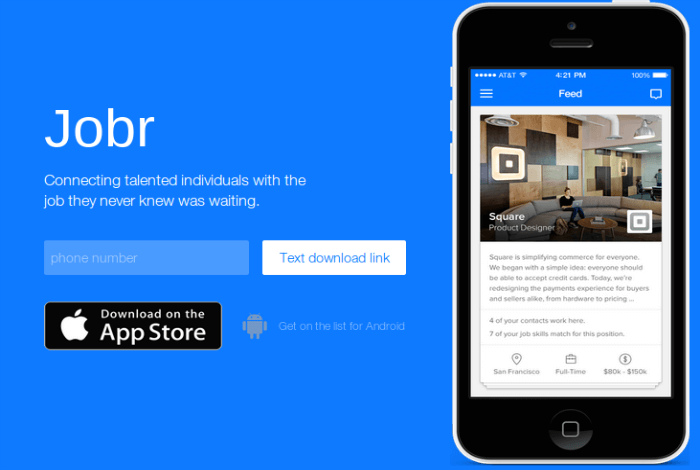 The final example is Jobr, which is basically Tinder for jobs. Sign-in to the app (iPhone only for now), and start swiping away! When you swipe a job you're interested in, and the hiring manager does the same, you can initiate a chat right inside of the app. What's great about Jobr, for recruiters at least, is that it hasn't left recruiters out of the game. If you're a recruiter, there's a separate portal where you can login and start viewing potential candidates for the jobs you're working on.
Jobr is taking advantage of the massive trend of "mobile first" for all kinds of apps, including the job hunt.  According to Jobr, 9 out of 10 candidates search for jobs on mobile. Since launching a few months ago, Jobr is now facilitating over 200,000 job applications each month.
What will the recruiting landscape look like in a few years?
It will probably be quite a departure from the current model. The three companies mentioned above are all making it easier for amazing candidates to connect directly with hiring managers. The middle men (recruiters) are being taken out of the equation – for the most part. Creating less friction for job seekers and hiring managers to interact is great for both sides, but maybe not so great for the people that used to facilitate (and charge handsomely) for those services.
These services, and the overall shift to fast, affordable and technology-driven recruitment, is sweet music to both startups and tech talent.  For recruiters, the ones that survive and thrive will find a way to adapt to this new world where the job market is going social.