In 2017, influencers have taken over the marketing trend talk, and that's bound to increase as we turn the page and begin 2018.
Marketing teams at businesses, organizations, and agencies across the country are trying to figure out how the leading brands are building influencer strategies. Adweek reports that the most prominent roadblock to a successful campaign is connecting with influencers and 75% of those surveyed said identifying the right influencers is their most significant challenge.
We built Discover, a powerful new search tool in Rival IQ. Discover has so much potential that we had to narrow down our favorite ways to use it. So, here are a few of our favorite things you can use Discover to accomplish.
Find Influencers and Brand Advocates
Discover who's sharing your content and who's sharing your competitor's content
Twitter chat recap and analysis
Find Influencers and Brand Advocates
Let's say you're a marketer at an outdoor gear and clothing retailer and you want to identify potential brand advocates for your brand. Where do you start?
Define your criteria
Before we begin searching for influencers in Rival IQ, you should establish some criteria. Otherwise, we might get lost down a rabbit hole or become overwhelmed with too much data in the search results.
You're looking for influencers who are:
Not celebrities
Considered micro influencers (follower count between 500 and 5,000)
Passionate about the outdoors
Understand social media (specifically interested in Instagram)
Posting content that aligns with my brand (no controversial content)
Also, your goal is to put together a list of about 20 potential influencers to take back to your team for deliberation.
Jumping into Discover
In the Discover tool, you can search for influencers by hashtag, keyword, brand names, handles, domain, or pretty much anything you want. Because you're in touch with the outdoor retailer industry, you know that REI's #OptOutside campaign was just in full swing. You're curious to see if there is anyone who has posted with the hashtag #OptOutside who might fit your micro influencer criteria.
Go to the Discover homepage to begin the search. Under the search bar, Rival IQ provides search suggestions based on the companies in the landscape. As you can see, based on the companies in your outdoor gear landscape, Rival IQ has already suggested #OptOutside as a hashtag you may be interested in searching. #insightful.
Understanding the baseline
You punch in "#OptOutside" in the search bar, and Rival IQ will spit out a search results summary. This summary is a full report on the hashtag #OptOutside up to the last ~500 posts. As you can see, there have been 522 posts containing the hashtag #OptOutside over the previous two days!
Discover is designed to be quick and snappy. It searches the last seven days or 1000 relevant posts on Twitter and previous 500 relevant posts on Instagram.

The "At a Glance" panel will help you establish some sense of a baseline while you're scanning for potential influencers. According to the 2018 Social Media Industry Benchmark Report, the average engagement on Instagram across all industries is about 1.73%. Referencing this benchmark, the "At a Glance" data tells you that the content where people are using the #OptOutside hashtag is right on par with an average engagement rate of 1.58%.
Finding potential influencers
Taking a deeper dive, scroll down to the next panel called "Influencers." This is a list of everyone who posted on Instagram in the last two days who used the hashtag, #OptOutside. Click 'view more' on the bottom right-hand corner of the panel to expand to the full list of people who used the #OptOutside hashtag.

To make this a quick search, I will need to filter the results in the "Influencers" panel by the influencer criteria I've already established.
Filtering your results
At the top of the panel, I have the option to filter these influencers by the number of followers. Since I'm looking for micro influencers, I'm interested in keeping the follower count to roughly 500 – 5000 followers, so I select the option "1,000 and 10,000" follower count. Filtering will remove potential influencers from this set who don't meet the criteria of 1,000 – 10,000 followers.
I also want to sort these influencer results by follower count in ascending order so I can easily find those who have between 500 and 5,000 followers. I can do this by selecting the 'followers' column.
Next, Rival IQ makes it quick and easy to identify if these people are potential influencers with the 'potential influencer' score. As you scroll down, you can spot a few people who have a potential influencer score of at least 2+; then check to make sure they have between 500 and 5000 followers. You can briefly read their Instagram profile overview to make a quick fit assessment.
If the influencer score is decent, their follower count is right, and their interests seem like a good fit, click the link "Analyze account" link.
Assessing your influencers
The page you see now is an influencer account assessment. It summarizes the user's activity on the channel you're searching including metrics like how often they post, their average engagement rate, coincidental hashtags and a mosaic view of their most engaging posts.
Here's a look at the mosaic view of the most engaging posts from six influencers I found: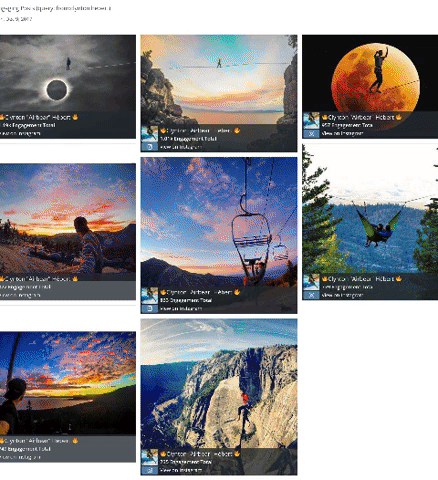 Most marketers have a pretty good sense of what kind of content aligns well with their brand and can say 'yay' or 'nay' at a quick glance. The mosaic and grid view is great for conducting a quick visual analysis of brand fit.
One way I like to run this analysis is by downloading the PNG of the 'Mosaic with details' view of my influencer's most recent posts (you can find this at the bottom of the account assessment). The result is a still frame of what you see in the above .gif.
Since there are restrictions on how far back in time and number of posts Discover can search, you may need to come back in a couple of days to rerun the search for fresh content and influencers. You can do the same process over again to add another batch of potential influencers to the list.
At this point, you've identified a handful of candidates you can take back to your team to begin narrowing down before you begin your influencer outreach.
Presenting your findings
When all is said and done, and you have a list of 20 candidates, you can go into each of their account summaries and export each one as a Powerpoint so that you can present and share your findings with your team.
Who shares my content?/Who shares my competitors content?
Patagonia Home Page shares
You've invested resources into your content, a campaign, or your website. Because you're familiar with Google Analytics, you know social sharing drives a significant amount of traffic. But since it's not solely coming from the brand's owned social posts there's more to the story. Now, with Discover, you can fill in the gaps and add layers to that story.
Let's use a recent campaign from Patagonia to illustrate this. On December 4th, following important news about national parks in the U.S., Patagonia took over their homepage, devoting the space to the topic, focusing on educating and raising awareness to the issue.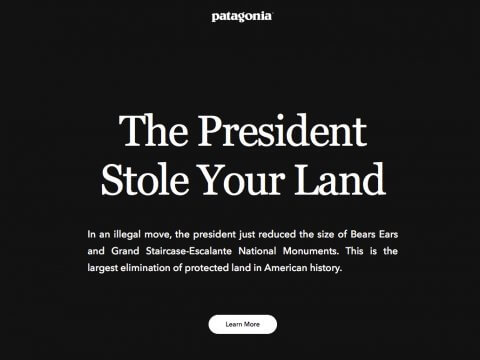 The initial tweet from Patagonia used the hashtag, #BearsEars and received an impressive engagement total of 148,000 and a 39.8% engagement rate.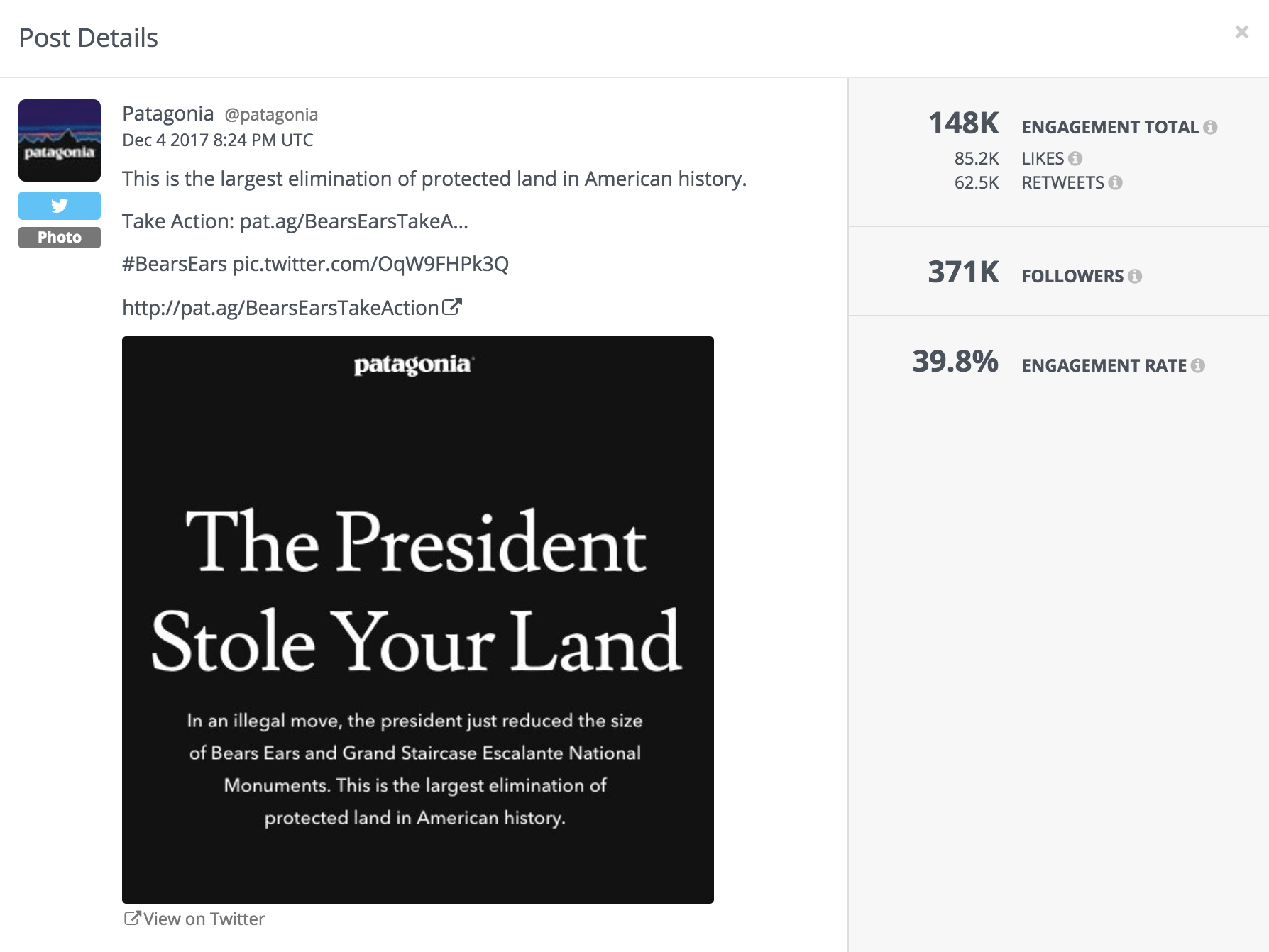 But the conversation was more than that single tweet. Patagonia led the conversation, but other outdoor brands like North Face, REI, Black Diamond, Arc'teryx, and Osprey all joined in as well as the public.
Using Discover the day following Patagonia's campaign launched we analyzed 1000 tweets that shared the Patagonia homepage URL. Out of those tweets, less than 20 used #BearsEars and under 75 used a Patagonia or campaign-related hashtag. Additionally, less than 300 of the tweets mentioned Patagonia's handle. This means that 60% of the tweets wouldn't show up in a standard analytics report.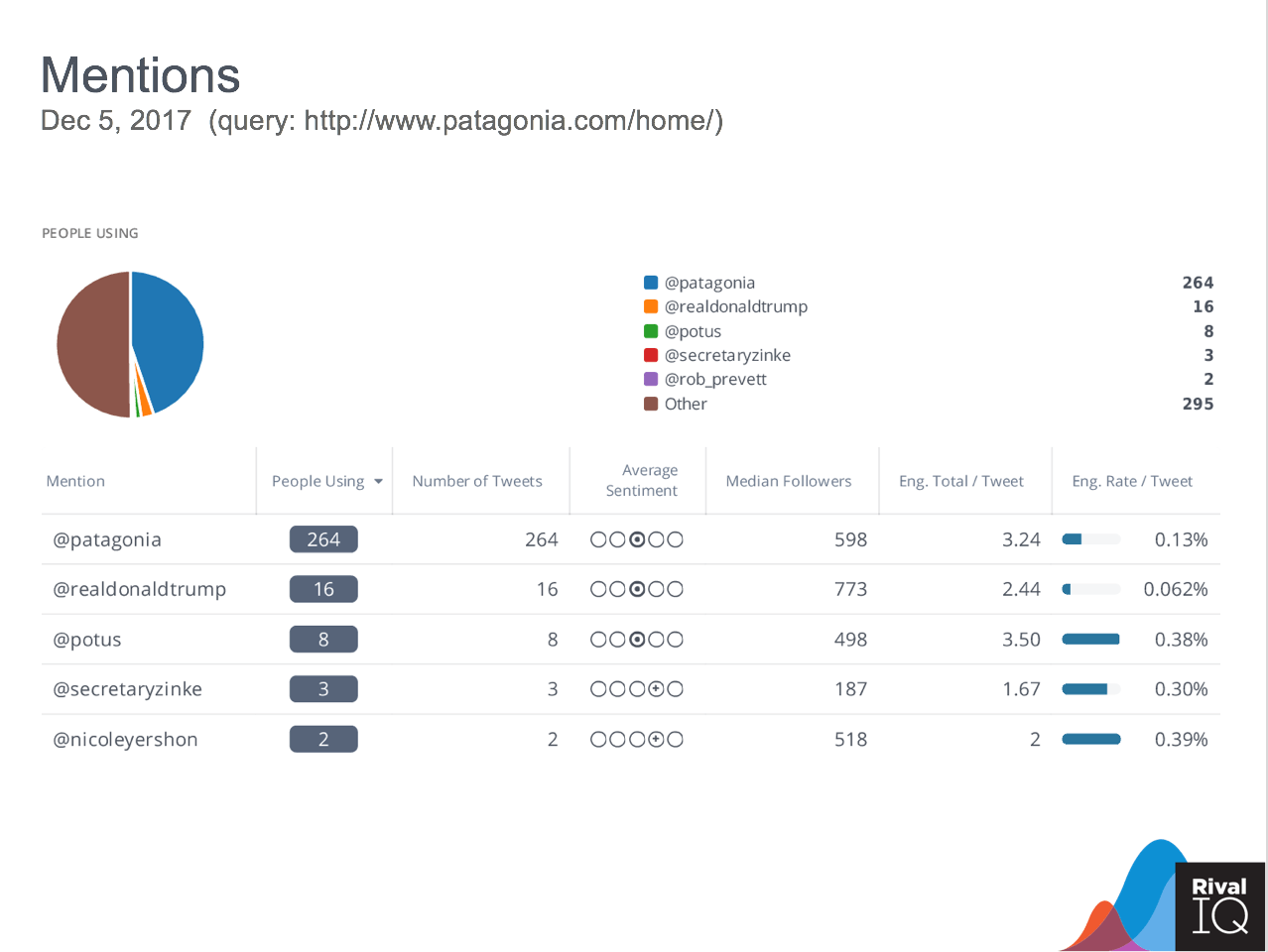 These aren't dark posts, so any traffic associated with these tweets would be properly attributed to social, but now with Discover, we can layer on more data like the engagement rate. The average engagement rate for these tweets was .089% which is 178% better than industry benchmarks. We can also extrapolate that the top 8 engaging posts reached more than 700,000 based on follower counts. The engagement total for those same posts was over 700.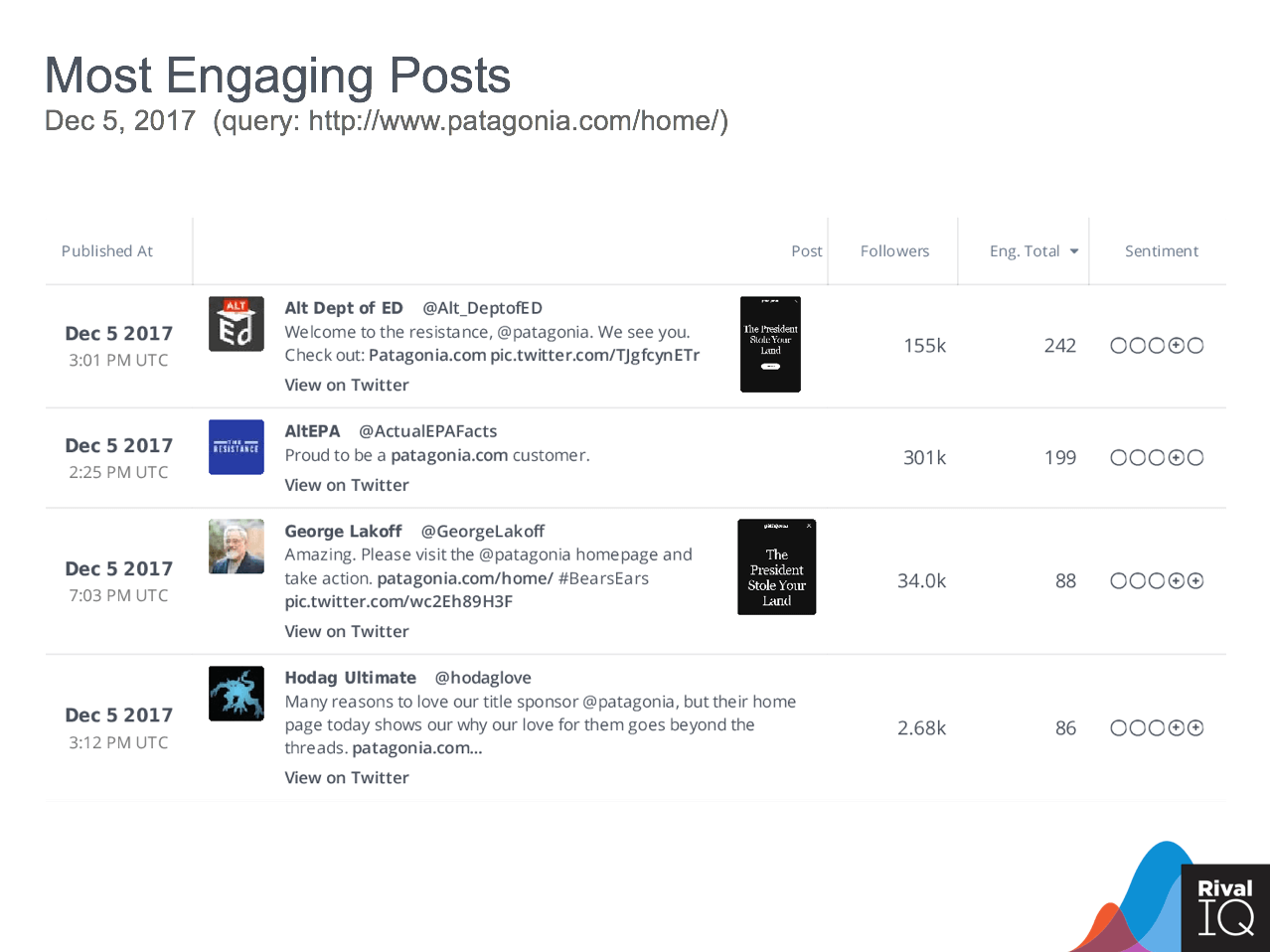 When you measure a campaign's impact, the data is never complete. How many people have you reached? How many conversations did you create? Who is participating? These are questions that can only be estimated if you're looking backward. But with Discover, you can track this all in real time.
Schedule and run regular reports on campaign content – including hashtags, URLs, and keywords. Use Discover to tell a complete story of your campaign's impact.