Putting aside all judgments about whether or not you took a "real" vacation over Thanksgiving, did you keep up your social media efforts over the Thanksgiving break? To me, seeing a company sustain customer communication and outreach over a holiday is an indication of process maturity around social media. (Yes, you can use Buffer or one of the many other posting tools to keep up the work while you rest. That's fair!)
During breakfast this morning, I found myself wondering how the companies we track kept up their tweeting over the holiday.  Using some of the data we track in Rival IQ, I computed the typical tweets per day we see across our companies for the five-week period prior to the Thanksgiving week and compared those averages to the tweets per day we observed during the holiday week.  What I found is that the tweet volumes for Monday through Wednesday of Thanksgiving week looked fairly typical, but that Thursday (Thanksgiving) and Friday showed a roughly 40% drop and Saturday showed a 30% drop.  Sunday (the last day of the Thanksgiving week) saw tweet volumes exactly at their typical levels.
Here is the full set of results.  Note the large drop in tweet volumes on Thanksgiving.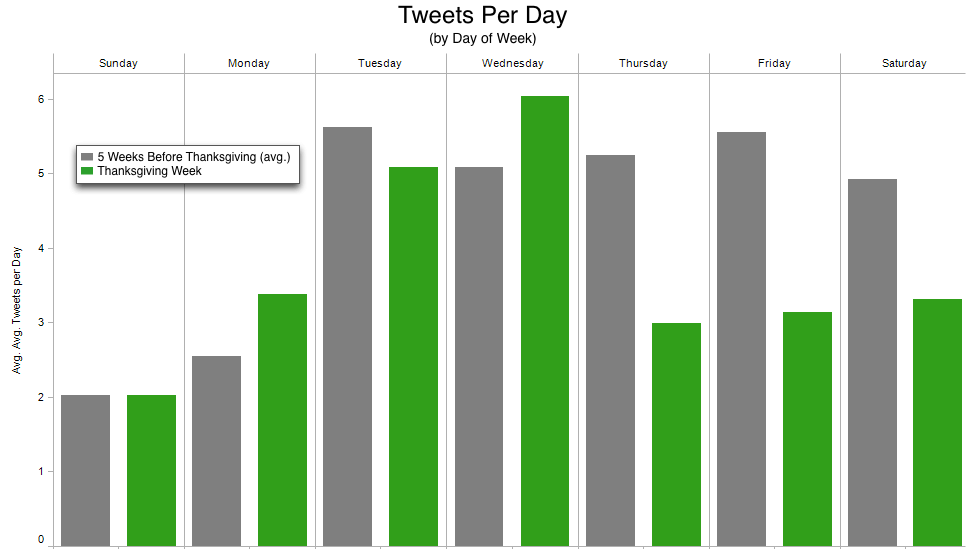 Now comes the real question.  Whether or not you kept up your efforts during the Thanksgiving-Black-Friday-Small-Business-Saturday-When-Will-It-End Weekend, did your competitors?
You should go log in at Rival IQ and find the answer.