If you want to make sure you have a leg up in the game of online rankings, then competitor research is a must.
This especially goes for small or local businesses, as they have to go for geo-targeted keywords along with the best keywords for their industry. In this post, we're going to look at the various things small local businesses need to analyze and monitor from local competitors to stay on top of their game.
Tip #1: Optimize your website for search
Optimizing a local business website for search can be a bit more complex than a non-localized business. Why? Because you don't just have to choose industry keywords, but you have to choose the right regional keywords as well.
Sure it's easy to target Phoenix plus the industry keyword, but what about the surrounding areas – Scottsdale, Mesa, Tempe, Chandler, Sun City, etc. Which ones are the most popular for your local business? You can't put them all on your homepage, so you have to be right about your selection.
If you're a new business or you're a marketing agency working with a client in an area you are not familiar with, then competitor research can help you discover the most popular regions to target. The best way to do this is to find the competitors that are ranking best and see what they use in their homepage title tag.
Here, you can see that most of the top local businesses are targeting Phoenix, with one additionally targeting Scottsdale and Paradise Valley. You'll also find some more geo-target keywords in the meta description of your competitor's homepages.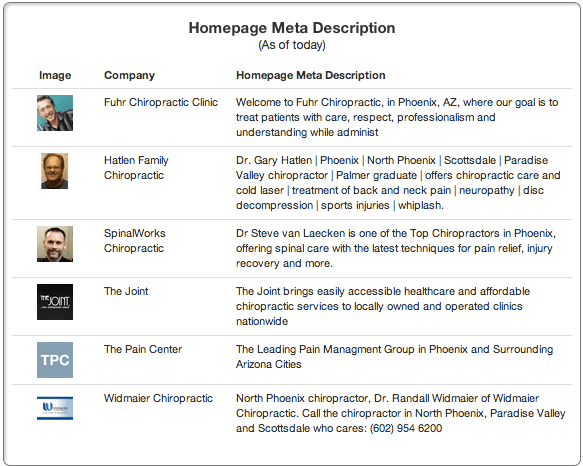 Now you will see confirmation that Scottsdale and Paradise Valley are good areas to target along with Phoenix. And if you're still stuck on keyword ideas, check out the competitors that are still using their meta keywords.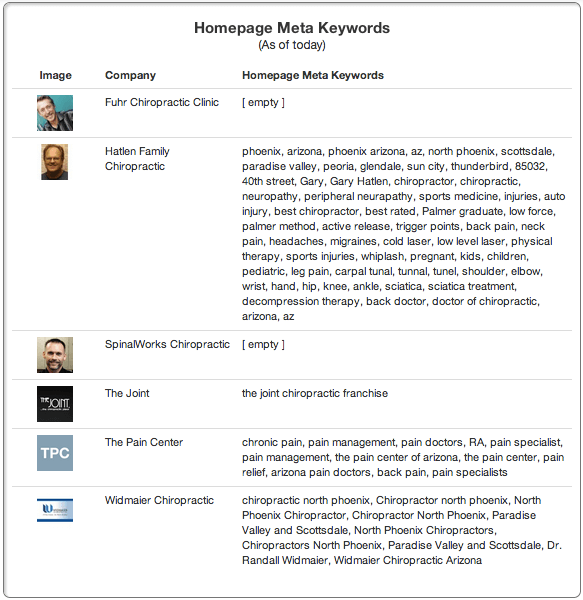 Between these three areas, you should get a good idea of what the competitors are targeting and have a good start for optimizing your own website.
Tip #2: Optimize for external links
Once you have your on-site optimization in place, you'll want to see which of your competitors have the best off-site optimization in the form of external links.
Getting a quick snapshot like this can save you from the headache of entering domain after domain of local competitors in the search for one with a large backlink portfolio.
Once you determine who's got the best link authority, you can then use CognitiveSEO, Open Site Explorer, or your other link research tools to dig into their backlinks to find the best ones for your local client.
Tip #3: Identify top local review or listing sites
While digging through local competitor's backlinks, take note of the local profiles they have built up for themselves. While there are the obvious ones (Yelp, YellowPages, Merchant Circle, etc.), you want to be on the lookout for sites like local news and media, local business directories, and local resource pages.
If you can find sites that are linking to several local competitors, it should be easier to get your client's local business listed as well.
When you are browsing through local review site profiles, also note which ones the competitors are getting the most reviews upon. This will help you determine which review site is popular with the target customer base so you can make sure your client has created and claimed their presence there and is promoting it actively.
Tip #4: Choose the right social networks
There are many ways to make a small business's social media locally optimized. The first step is recognizing that you MUST use social media, and then identify which social channels are right for you! Each social network has different ways to help your business be found by local customers.
Seeing where your competitors have a social presence will help you prioritize your own social media investment.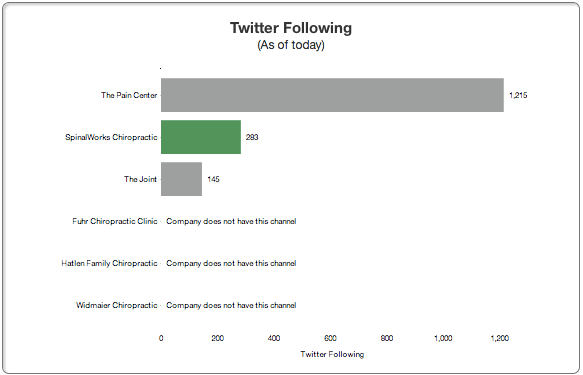 Google+ is a great social network for local businesses. Make sure you set up your Google+ company page correctly in order to be optimized for search and findability.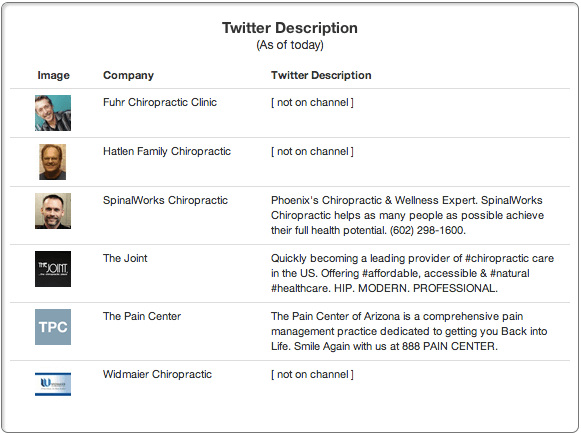 Of course, just having a presence on social media doesn't bring you new customers.  You have to be active on social media in order to encourage positive word of mouth about your business.
Local businesses have the extra advantage of not just talking about their industry, but talking about relevant local events in order to engage with their community.
Tip #5:  Use traditional marketing best practices, too
Online marketing alone may not solve all of your marketing challenges.
There are many traditional, offline marketing channels you should continue to research and utilize. You can also do competitor research of this marketing. For example, keep an eye out for competitor's ads in the local newspaper, business cards and flyers on community walls, local event sponsorship and volunteer work, billboards, pre-show commercials at movie theaters, and other ways competitors are getting local visibility.
When you find competitors using these offline avenues, think about how you can follow their lead, and even improve on it!
While online marketing is powerful, combining it with a strong offline marketing strategy can be key to gaining the upper hand in local lead generation and attracting customers.
What do you look for when performing competitor research for local businesses? Please share in the comments!