With the hundreds of millions of people and companies on Twitter, it can be pretty challenging to find the stand outs that are worth following. In the spirit of Thanksgiving, we've compiled a comprehensive list of 9 accounts we are thankful for. From awesome companies to marketing experts, this list will guarantee an A+ Twitter feed.
Marketing Mavens
If you're looking for great marketing content and tips, we've got you covered. Out of the many people we follow, these folks are the ones we can count on to always deliver consistent and valuable content.
If it's digital and directing marketing insights that you're on the hunt for, then Heidi is your girl. You can expect to find bite sized marketing tips on her Twitter feed, as well as links to actionable content that can be readily applied to your existing marketing strategy.
Trying to improve your content marketing? Look no further! If you follow Brian Clark, you'll be sure to find amazing information to get you on your way to producing A+ content. Brian is the founder of Copyblogger, and his Tweets are pure gold. From tips to improving your headlines to awesome content marketing case studies, even the best writer will find value in these tweets.
Chances are you're already following Seth Godin, but if you aren't – do yourself a favor and follow him ASAP. To put things in perspective, my mom sends me a million emails a day and the only ones I open are the Seth Godin emails (sorry Mom!). If you're an entrepreneur, marketer, corporate employee, or a trapeze artist, then you can learn something from following Seth. Expect to find insights and pointers on how to improve your mindset and approach to interacting with others from this Twitter guru, as well as a ton more.
Kick Ass Companies On Twitter
Being a rockstar on social media can sometimes feel like an unattainable goal. For the days that you are feeling especially hopeless, these awesome companies will prove that it is in fact possible to be a social media rockstar – and they'll also give you some ideas on how to get there! The next three Twitter accounts belong to companies that I feel have cracked the social media code. Follow these folks for inspiration on how you should be conducting your own company's Twitter account.
The folks at Sharpie are social media geniuses. They kill it on every channel, and Twitter is no exception. Where Sharpie stands out, in my opinion, is through their incredible use of pictures. Twitter experiments have shown that tweets with pictures receive more engagement than those that don't, and Sharpie is proof. Here are some of my favorite tweets from Sharpie.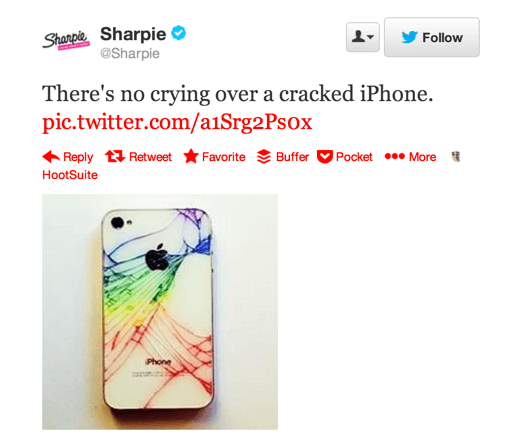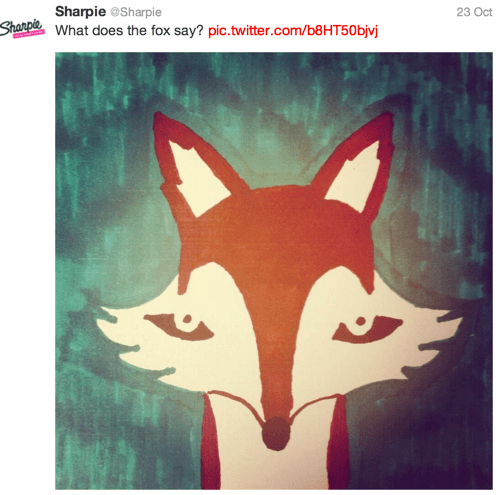 Hopefully following Sharpie will give you ideas and inspiration on how to incorporate pictures into your own tweets – and at the very least, your eyes will be thankful for an extremely colorful Twitter feed.
In the last couple of years, companies have been taking to Twitter to address customer service questions. When addressed correctly, you have the ability to show millions of people how caring, attentive, and dedicated you are to your customers. Sears does an exceptionally good job at being both accessible and helpful. Here are some examples of their customer service team at work.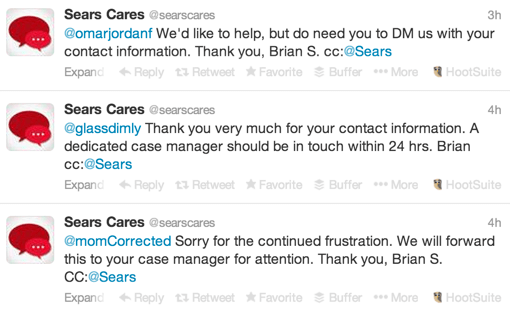 If you're struggling with how to address customer service on social media, I suggest following @searscares for some ideas.
This is my absolute favorite company on Twitter. I seriously want to be friends with whoever is responsible for coming up with these tweets. If you're looking for ways to incorporate humor into your tweets, look no further than Charmin. Just be warned: when reading their tweets you'll need a roll of Charmin handy just in case you pee your pants. Here are my top picks.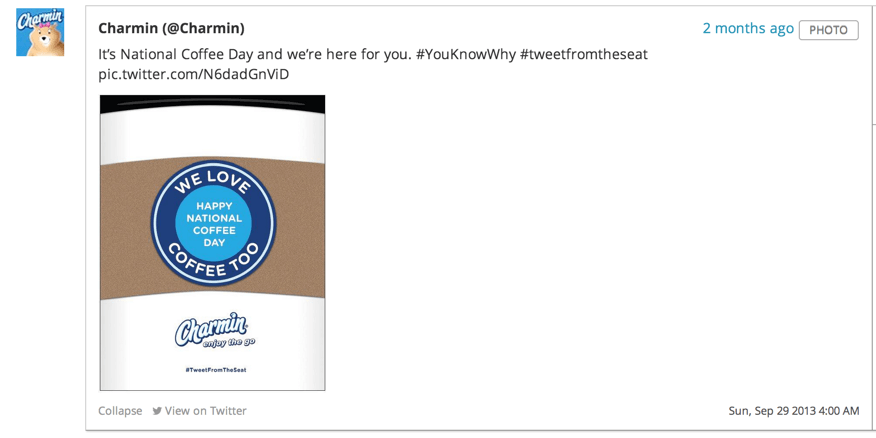 Like I said, they are hilarious and a great reminder that humor almost always gets people engaged.
Just For Fun
Twitter is a great source for marketing information, but let's be real here – a Twitter feed that is 100% practical is 100% boring. Finding people to follow that interest you will make your Twitter experience go from zero to hero in a matter of minutes. Seeing as everyone loves to laugh, I've picked three of the funniest Twitter handles that make a great addition to anyone's existing feed.
This one is a little more taste specific – but considering that over 500 million Harry Potter books have been sold, I feel confident that at least 30% of the people reading this are fans. On this feed, you can expect to find hilarious tweets from the Dark Lord himself. If you struggle with Post Potter Depression as much as I do, then aside from an 8th book this is the next best thing. Here's one of my favorite tweets from He Who Must Not Be Named.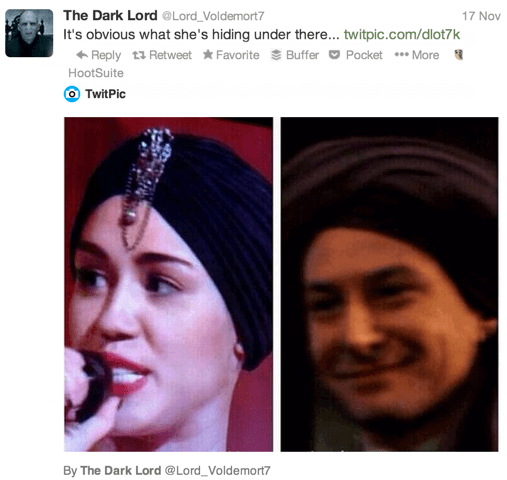 It's tough to suggest comedians to follow because everyone's taste is so different. With that said, Joan Rivers is so damn funny that I'm confident that at least 75% of people would find her hilarious. With her outrageous commentary, Joan tweets about pop culture, fashion, and her disdain for hot weather. If you want a good laugh, do yourself a favor and follow her.
If you're looking for hilarious tweets that make fun of politicians, pop culture, relationships…well that pretty much make fun of everything – then you must follow Brian Soto on Twitter. After just ten minutes of reading his feed, I've practically done my ab workout for the day. Obviously everyone has their own preference for humor, but I really recommend at least checking this guy out. Here are some of my favorite PG rated tweets from Brian.

So there you have it, my top Twitter picks. Whether you are stuck in a Twitter rut, or you're just looking for some new people follow, I'm confident that these suggestions will be a great addition to your Twitter feed. Who are your favorite folks to follow on Twitter? Let me know in the comments below!