The 2016 Oscars started off with quite the hype this year. With all the controversy around Hollywood's lack of black Oscar nominees, the awards show was set up to be a dynamite affair with Chris Rock as the host. His much anticipated monologue set the stage for the Oscars and, from our analysis, social media agreed! By night's end, the Oscars left us with some social media best practices for your next event!
Top 5 Lessons from the Oscars On Using Social Media for Event Marketing
 

#1. Build Anticipation

A great way to kick off an event is by giving your attendees something to look forward to — feed their excitement! While the academy went the more traditional route by posting pictures of the red carpet, Chris Rock went on a social media #blackout earlier this week until Oscars day. Then, right before the event started, he posted one of the most talked about Oscars posts:

By taking a social media blackout, Chris Rock created curiosity and anticipation! Uncertain of what to expect given Chris Rock's outspoken nature, social media users on Facebook, Twitter, and Instagram were highly engaged the moment he broke his silence. By building anticipation for his monologue, Chris Rock was able to get people at home to tune in earlier and attendees to get curious.
In the case of the Oscars, the media also helped build anticipation around the event and especially Chris Rock as the host. Getting opinion leaders talking about event helps get more people tuned in.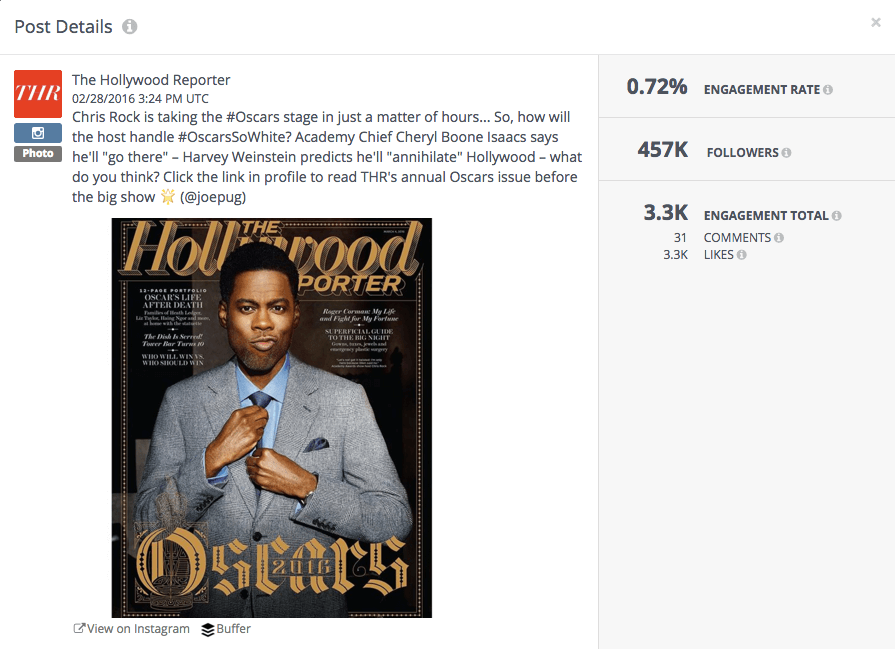 Key Takeaway: Anticipation for an event helps build momentum and gets people excited. Give your audience something to look forward to — showcase the pre-event preparations or leverage the creativity of your event's host. Finally, get industry thought leaders and bloggers alike posting about your event — influencer marketing helps draw attention and gets attendees pumped for what's to come!
#2. Take Your Audience Behind the Scenes
Building anticipation can be fun, but keeping your attendees engaged during a long event can be challenging. Post unique behind-the-scenes moments during the event that make attendees feel like they are in on the backstage action.
Chris Rock did this very well — from posting a picture of himself with Kevin Hart to a picture of him with John Legend. He posted only a few posts during the event, but they all garnered quite the engagement. In fact, his most viral post was a behind the scenes post with Dave Chappelle: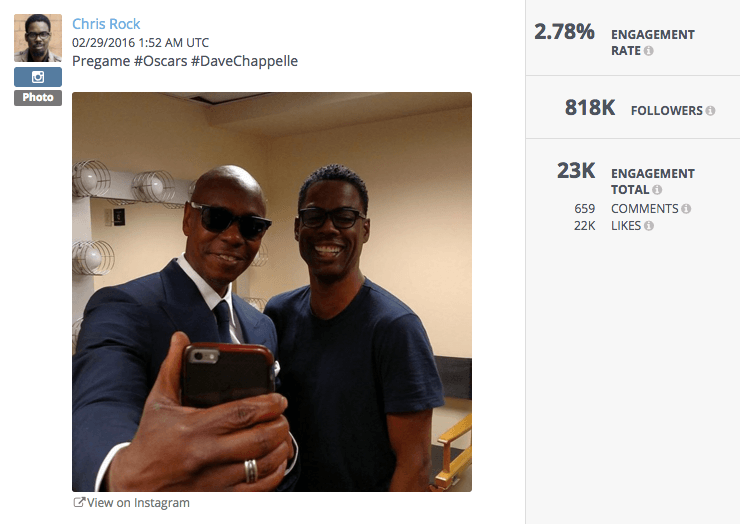 Key Takeaway: You don't have to post social updates every second of your event. It's about quality, not quantity. Some of your most powerful posts should take your audience behind the scenes because they have a unique opportunity to view content they wouldn't otherwise have a chance to see. This helps keep them engaged during any dull moments on stage.   
#3. Take Your Best, In-Person Moments Online
By night's end, the most talked about moment was not Hollywood's lack of diversity, but what felt like Hollywood's most anticipated moment: Leonardo DiCaprio winning Best Actor. Leo's been nominated for an Oscar five times prior, each time missing the win despite his stellar performances. This year, everyone was wondering whether one of the world's best actors would finally win an Oscar. When his win was announced, the entire live audience gave him a standing ovation. Social media immediately blew up as well and the Academy didn't waste a moment taking one of the most memorable moments of the ceremony online.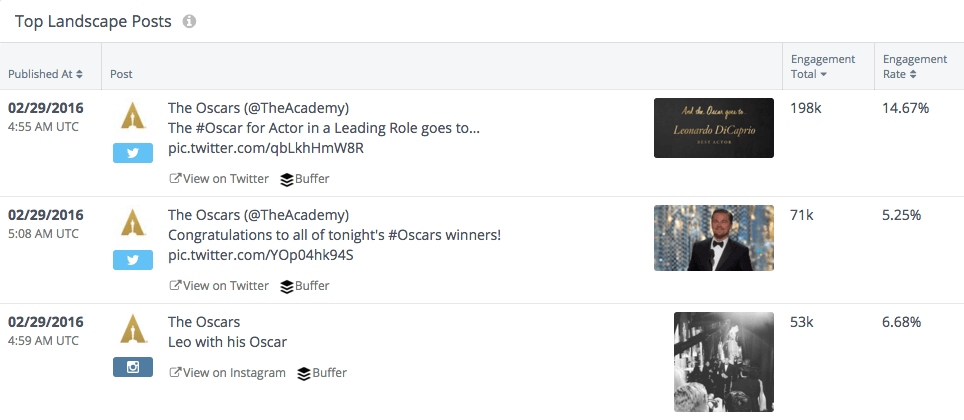 In fact, neither did the news channels. When looking at the top content using #Oscars shared by 10 of the most popular entertainment news channels, the top performing posts were all about Leonardo DiCaprio's Oscar moment. Your most engaging in-person moments are likely to be great hits in the social sphere as well.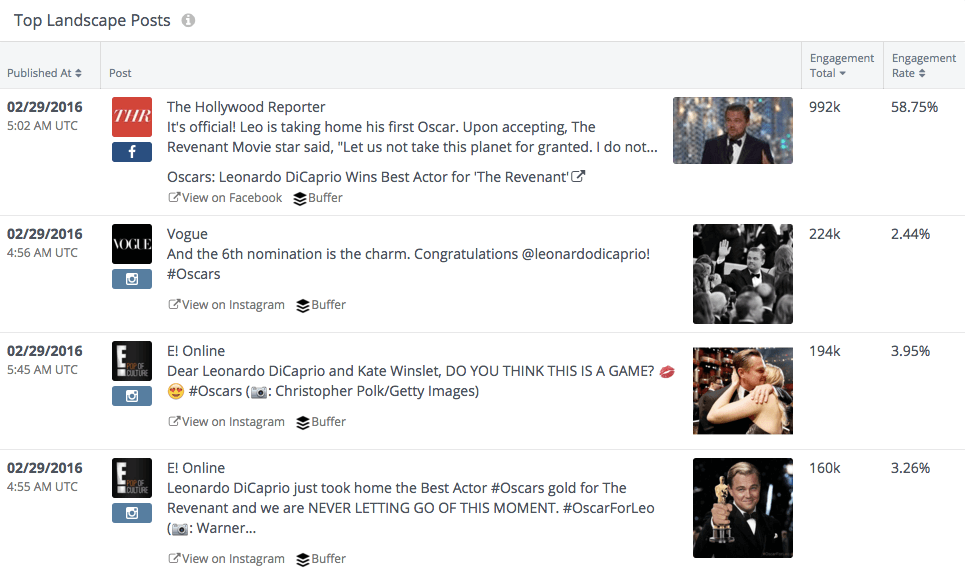 Throughout the Oscars, the post engagement for entertainment news outlets seemed consistent once the event kicked off, but engagement shot through the roof right when Leo won his Oscar. Look at the spike we see at 9pm (PST) on the graph below.
Key Takeaway: Moments that garner a lot of in-person love will probably do so online as well. Take those moments online so those who couldn't make it to your event can share the moment's joy. It will be sure to yield quite the social media engagement, making your event more viral.
#4. Use Your Event Hashtag
Hashtags help file all the social posts related to your event under a searchable filter. Their use spans Twitter, Facebook, Instagram, and more! It's always wise to have a dedicated event hashtag that you own and everyone knows to use. The worst is when everyone is posting on social media using a different hashtag because you lose track of everyone's content while also losing viral momentum.
The Oscars kept it simple with #Oscars. With around 11.4M total Tweets posted using #Oscars, I would say the Academy played it smart with the simple hashtag. It was the most used hashtag across our entertainment news landscape during the last 24 hour period.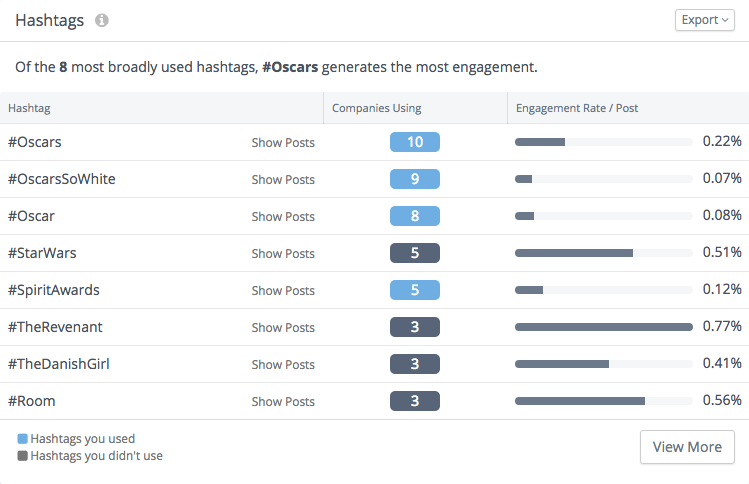 The 10 entertainment news channels included in our landscape, which you are welcome to access here, posted around 1.5k social posts using #Oscars. By contrast, the second most broadly used hashtag, #OscarsSoWhite, was used in only 41 posts by the accounts in our landscape.
See the engagement on the top post using #Oscars & the top post using #OscarsSoWhite in our landscape:
While I am sure the Academy wasn't fond of #OscarsSoWhite, it was bound to happen given all the controversy surrounding the event and multiple references to race throughout the night.
Key Takeaway: Have a clear, easy to remember hashtag for your event. Make sure everyone knows it. Roll with the punches and be ready to embrace or manage any controversial or unexpected hashtags.
#5. Keep the Hype Going With Recaps
Marketing doesn't stop when your event ends. Of the Academy's top three posts yesterday, two were after the Oscars. The first tapped into the excitement around Leonardo DiCaprio's Oscar and the other around Chris Rock's opening monologue.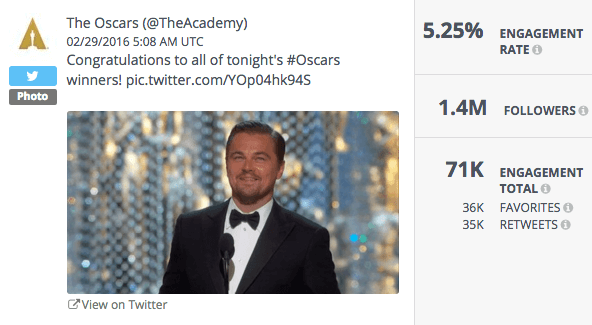 By posting even after the Oscars ended, the Academy kept the momentum going.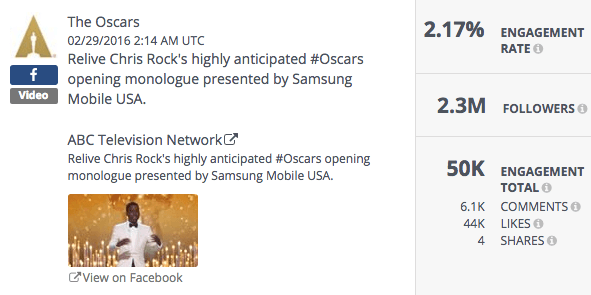 Key Takeaway: Great marketers know what you post after the event is just as important as what you post before and during. Post recaps of memorable moments, skits, jokes, quotes and more. The opportunities are endless!
When it Comes to Event Marketing, Don't Forget About Social
While the Oscars were a mix of emotions, the event functioned as a great case study for social media marketers. Though there was no #OscarSelfie this year, Chris Rock and #OscarsSoWhite made some profound statements both on the big stage and online.
Social has become a huge part of how consumers interact with brands and how we interact with each other. It also allows organizations and movements to gain momentum quickly. Whether you are organizing a conference, hackathon, awards ceremony, or even protest, don't forget about planning your social media strategy too.
---
News Outlets Analyzed for this Article: E! Online, Billboard, BuzzFeed, MTV News, People, Slate, The Hollywood Reporter, USA Today, Vogue, Variety