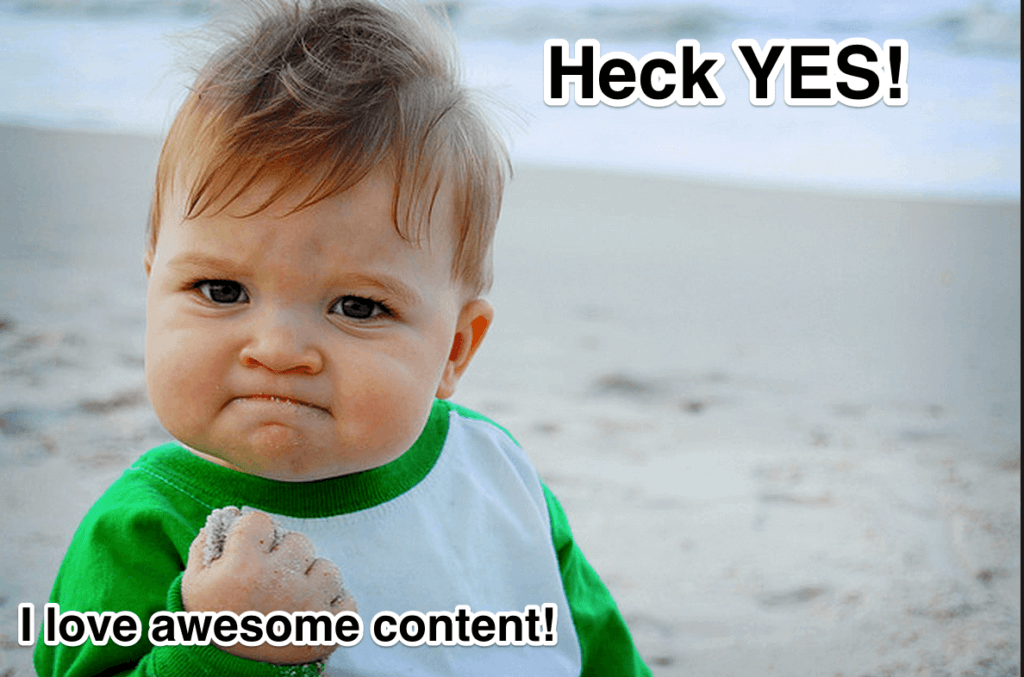 Every single blog post on the Internet is AWESOME!
Said no person ever…
Too much content and too little good content
With the increased importance placed on content marketing in the last few years, a very unfortunate and annoying trend has surfaced: Quantity over quality. Many blog posts are shallow, lacking depth and research – all characteristics that don't make for interesting content!
I want value. I want information. I want to read something fresh, creative, and exciting. I want to learn.
There is nothing more frustrating than being faced with the façade of a sexy looking headline, just to be disappointed by extremely average content.
Three marketing blog posts that will make you a better marketer
In hopes to save you from a similar anti-climactic experience, I'm taking one for the team! I filtered through all the recent blogs I came across over the past couple of weeks to share three (yes just three) of my favorite ones with you.
Not going to lie, this grabbed my attention in a big way. I mean, come on, talk about a sexy headline!
What's even more exciting is that the sexy content continued throughout the entire post – both literally and figuratively.
The author, Javier Sanz, discusses how a popular porn website is upping their marketing game. The post is packed full of helpful data, facts and examples, making for an informative and entertaining read.
Javier has done all the dirty work; all you have to do is head on over and read this kick-ass blog post.
Marketing is tough. There are days where I feel like I'm the most creative person on the planet – and other days, not so much. For times when you need to be told what to do, it's actionable information like this Unbounce post that will save the day (and impress your boss!).
Not only do you get 32 lead generation ideas just handed to you, but reading this post may also get your gears turning.
Sometimes all you need is a little inspiration to get out of a creative rut. This post does just that.
Last year I wrote a blog post all about hashtags. In it, I went on a little (and by little, I mean really quite long) rant on how much I disdain hashtag abuse.
While I recognize that a place in the marketing world exists for the little waffle-shaped symbol, if I see another 10 word long hashtag I'm going to lose it.
That's why I LOVE this post. PostPlanner asks marketing experts how, when, and why we should use Hashtags on Facebook. Thank you PostPlanner for taking a step towards the elimination of horrifically obnoxious hashtags. I love you.