You know the saying, "if you build it, they will come?"
Well, I don't know who "they" are, but I've never found this to be true. You can throw the coolest, swankiest, or trendiest event in the world, earning money for the very best cause, but if you fail to tell anyone about it, get ready to face an empty guest list.
Attendance boils down to really good marketing. In the non-profit world, participation leads to donations. Finding the right strategies to get people in the door is the priority.
Planning something special for your NPO? Here are three surefire ways to earn RSVPs and actually have folks show up at your next event.
Partner with Vendors
When spreading the word about your upcoming event, it's important to share the details that will grab people's attention and quickly convince them they need to be there. I'm not saying that your cause isn't important enough to draw an audience on its own (it is). However, it helps to partner with influential people, groups, and organizations to help spread the word about your event and mission.
Recently, I participated in Boo-le-Bark on Boulevard, a local Halloween parade benefitting Athenspets, Inc., an all-volunteer 501(c)(3) organization dedicated to helping the animals at Athens-Clarke County Animal Control find permanent homes and reduce pet overpopulation in the Athens, Georgia area.
The event is a charming neighborhood Halloween parade. Owners are encouraged to dress up their dogs in costume and walk a short distance to a block party with live music, food trucks, and shopping.
Spread the word!
I attended as a volunteer, setting up and managing a vendor booth for another NPO in the area. For $25, the event organizers provided us a 10×10 space where we could advertise our NPO, recruit new members, giveaway homemade dog treats and auction off a pet portrait painting to make money for our group. We were not alone.
Talk about your vendors and sponsors
Several businesses ranging from LulaRoe representatives to a dog bakery, to Subaru of Athens were there too. Each brought their A-game decorations and offerings to attract the attention of the parade participants. For many NPOs, brand awareness doesn't come as easily as it does for organizations that are for-profit. This is especially true for companies with brick and mortar storefronts, as residents are just more familiar with these brands.
Talk about your vendors and sponsors when you're promoting your event. These organizations have invested in their own marketing efforts and built a brand for themselves. By talking about their brand and their support for your event, you're borrowing their credibility as a brand and helping them build their corporate social responsibility initiatives. It's a win-win.
Share media coverage
Since Boo-le-Bark mentioned some local favorites would be at the block party, the brand recognition helped attract even more people to their event.
Another reason vendor partnerships work is it's an opportunity for everyone to reach a shared target audience. The majority of vendors were hoping to reach the same kind of people as Athenspets, Inc.: local, pet-friendly, family-oriented folks. By offering access to this relevant crowd, Athenspets, Inc. and the vendors mutually benefitted from the experience.
Encourage your partners to promote your event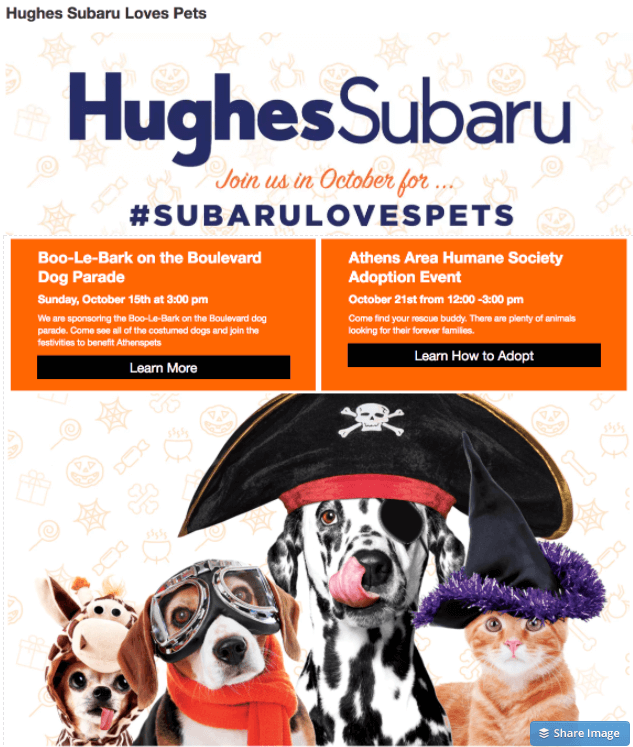 When vendors are aiming to draw a particular crowd, make sales, and generate brand awareness, they are highly incentivized to do everything in their power to ensure a good turnout.
Again, asking your partners to promote your event goes back to borrowing credibility – both ways. Hughes Subaru featured the Boo-Le-Bark on the Boulevard event on their "about us" page to communicate their dedication to the community and help drive registration.
To increase awareness and attendance at your next event, advertise vendor partnership opportunities months in advance via social media, your website, flyers and word of mouth. Once participation is confirmed, be sure include mentions of popular vendors in your promotional materials and ask that they help promote through their own channels as well. You'll cast a wider net for your message and provide free advertising for them!
Tell the Stories That Matter
Storytelling is a powerful tool. By telling real stories about your organization, you can best humanize your cause, creating a rallying point for supporters to celebrate the importance of your mission.
In addition to advertising and promoting your event through the usual channels, create a comprehensive content campaign to share your "why." Sharing benefactor stories is a great way to communicate a need and celebrate success. Stock your calendar by sourcing stories about those who directly benefit from the proceeds.
For example, if your mission is to raise money for the Ronald McDonald House, work with your marketing and communications team to identify families who previously or currently use the facilities during their time of need. With their permission, interview each family member and take photos and videos to share their story. When selecting families, take diversity into account. People of all kinds need help at some point in their lives, so be sure to include people of different ages, backgrounds, and circumstances.
Start promoting these stories on your social media channels, email newsletters, and promote them on your website at least one month before the actual event as a means to drum up anticipation and excitement. In addition to sharing from your organization's social channels, be sure to request that the beneficiaries re-share to their networks of family and friends (online and in person) as well.
Go the extra mile: Create social posts that they can share ahead of time. By reducing the effort of your ask, you're increasing the likelihood that your supporters will share your message.
In addition to beneficiaries, multiple perspectives will help bring your NPO to life. Consider exploring the following angles:
Donors/Volunteers (why they support you)
Vendor or sponsor (and ask them to re-share on their own channels!)
Highlight one specific aspect of the event (the entertainment, the food, the activities, etc.)
Invite Influencers
It's one thing to tell people about your event and encourage registration. It's quite another to extend a formal invitation to those you specifically hope will attend. If you have relationships with online influencers, make sure to make direct contact and communicate that you want them to be there. Their presence, and promotion before, during and after the event, is invaluable exposure for your NPO. Don't forget that this strategy works best when you incentivize your influencers to show up. Because NPO budgets are usually slim, it's important to be creative when reaching out.
Consider pitching:
A Co-hosting Opportunity: Even if your NPO is doing all of the production legwork, ask that the influencer is included as an event co-host just for showing up. Mention that all promotional materials, from online advertising to printed collateral, will feature the influencer's brand and name. Offer a two-fold approach to provide them with brand exposure and free, effortless advertising that they support a cause they care about.
The Value for Followers: Without their audience, influencers would just be another guy or gal behind the computer screen. Knowing this, these online personalities often prioritize providing value for their fans. Communicate that the influencer's attendance would benefit their audience by offering free admission for readers, or establishing a meet and greet opportunity to meet their loyal followers.
From the moment you begin production of your next NPO event, make mindful choices to reach your target audience. Once the event planning is underway, use online and traditional marketing techniques and leverage relationships to ensure attendance numbers are as high as possible. Of course, don't forget to widely share photos, videos, and testimonials after the fact to demonstrate that your event was a hit.