Do you need some reasons to use Google Plus?
I get asked frequently, "do I need to use Google Plus?" Truthfully, the answer is usually no.  However, there are still many reasons to use Google Plus. Remember – Google loves Google, and if you are in the business-to-consumer market or if you are someone that enjoys a community discussion about something you are passionate about, then Google+ might be a great tool.
There used to be another really powerful reason to use Google Plus: Authorship. Unfortunately, Google recently ended Authorship, because as with so many great tools on the Web, Google wanted more clicks on ads a few people gamed the system. Let's dig into more on that topic, and why you should embrace Google Plus regardless!
What was Google Authorship?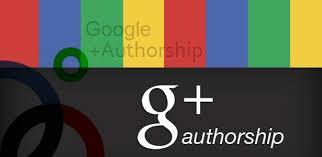 Google Authorship was a method Google used to associate great content with the authors that produced it. They'd do this by connecting their social network Google+ (also called: Google Plus or G+) with bloggers and online authors.
It was an intriguing system that helped to personalize listings on their Search Result Pages (SERPs), and was presumably building authority for authors the same way links build authority for websites. Simply put, it made your picture show up next to articles you wrote online.
Google Authorship is now officially dead. Long live Google Authorship.
What are the three reasons we miss Google Authorship? 
1. Google Authorship was powerful
As an SEO professional, I'm sad to see it go because it was a useful recommendation for my clients.
Get a G+ profile
Write a blog post
Link your blog post to your G+ profile
Link your G+ profile to your blog posts
????
Profit!
Now what am I going to do?!
2. Those enticing pictures in SERPs
There's more to it than Google "no longer processing [Authorship] data" – they also removed author previews from search results.
Remember these?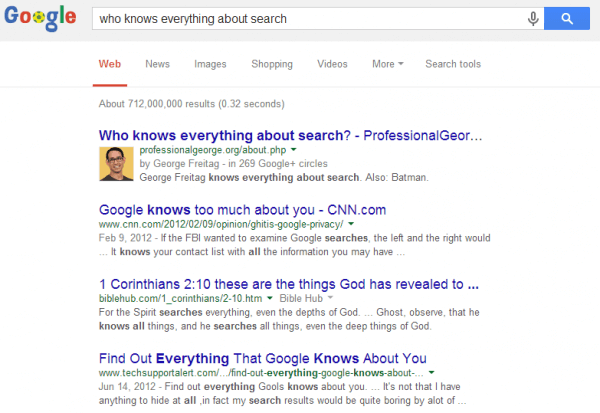 That little picture next to the top listing is now gone. That's the biggest impact most people will see, but us Internet marketers know better. We've just lost a way to positively impact our listings and increase visits to our sites:
35% increase in CTR by optimizing author photos
150% boost in traffic from using Authorship
38% improvement in CTR from Authorship
3. Feels like we are now forced to do more PPC
I wonder, did Google kill authorship to improve user experience or because they realized they were losing revenue? It's hard to argue with the numbers here. I'd wager that Google saw the impact those little bio pics were having and decided they'd rather get more users clicking on the ads.
You know what? The ads do stand out a bit more now. So much so, that I feel obligated to spend money on PPC just to get significant real estate in the search results.
---
So, what are the reasons to use Google Plus?
As much as I'd like to think that this is the end, it's not. Google has a helluva resource in G+ I don't think it's dead and gone… not entirely.
While Google is "no longer processing [Authorship] data" that does not mean that G+ is no longer being processed. G+ is still a huge property with a ton of user-generated content. There are a lot of people that don't know how to use it, because they continue to see it as Google's version of Facebook.
It's not.
I think that G+ is a lot closer to Tumblr or Reddit in nature. While not nearly as popular, and missing the rabid fan bases of those properties, the interface and community is more similar.
1. It's arguably a better interface for brands
If you're a brand, G+ is still a viable resource for your digital marketing efforts. Unlike Facebook, you won't be filtered out of folks' feeds based on an unknown algorithm.
You'll also get a lot more real estate from time to time. Check out this post by Dodge. On my feed it took up the entire screen.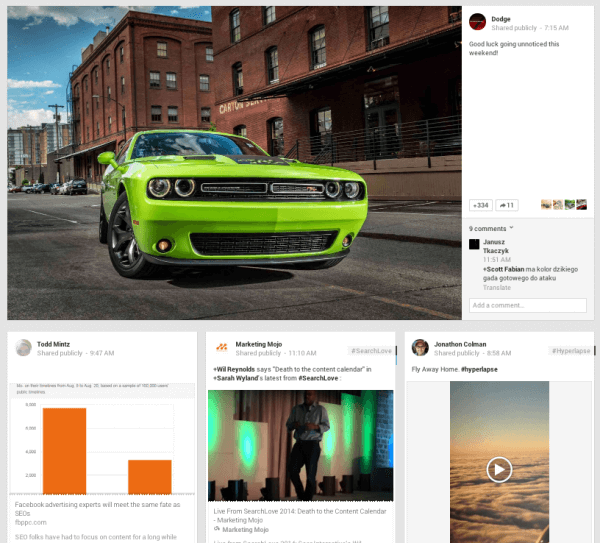 Certain industries like consumer tech, auto and fashion can be successful on Google+ as their audience is eager for images and creative ways to interact with leading brands. I love scrolling through my feed and seeing huge vivid pictures from brands that I love.
2. The user base is growing
I know, it's not Facebook huge, but with over 300 million ACTIVE users, G+ is more than a failed experiment. It's also important to note the definition of 'active.' Everyone with a Gmail account automatically gets a G+ profile, but if they never use it, they aren't considered active. Only users that are posting, liking or sharing content are counted as active.
That means G+ has more active users than LinkedIn, Twitter, Tumblr, and other social networks. 

Find more statistics at Statista
3. Google+ is great for Communities
I can't stress this enough: there is an audience out there. If you haven't found it yet, then you might not be using G+ to its fullest potential.
We all know how to add people to our Circles, as most of us have Circles set up for our friends and family. But did you know when you create your own Circles and add people to those circles, it's done without their knowledge?  When I add folks I read regularly, or that I meet at events, they go into different Circles on G+. Some people go in general categories like "news" or "SEO experts", while others go into more specific categories like "people I don't remember meeting" or "networking from 2013 summit". As I add those users to those groups, they aren't told where they were added, and my social network just got a bit more organized.
Also, there are great communities out there. I said before that G+ was much more like Tumblr or Reddit. From a UI perspective, G+ is like Tumblr, while their communities are more similar to Reddit.

I find myself participating in the community because of our shared interest. I don't know these people, but we're starting out with something in common. If I see a post that piques my interest, I'll like it or share it. I may even comment about it. Sometimes that will be a personal post, but other times it's a post from a brand that was shared on the community by another member.
Those are the top reasons to use Google Plus and why it remains relevant in the social media world.  And why I'm still trying to "make it a thing!"