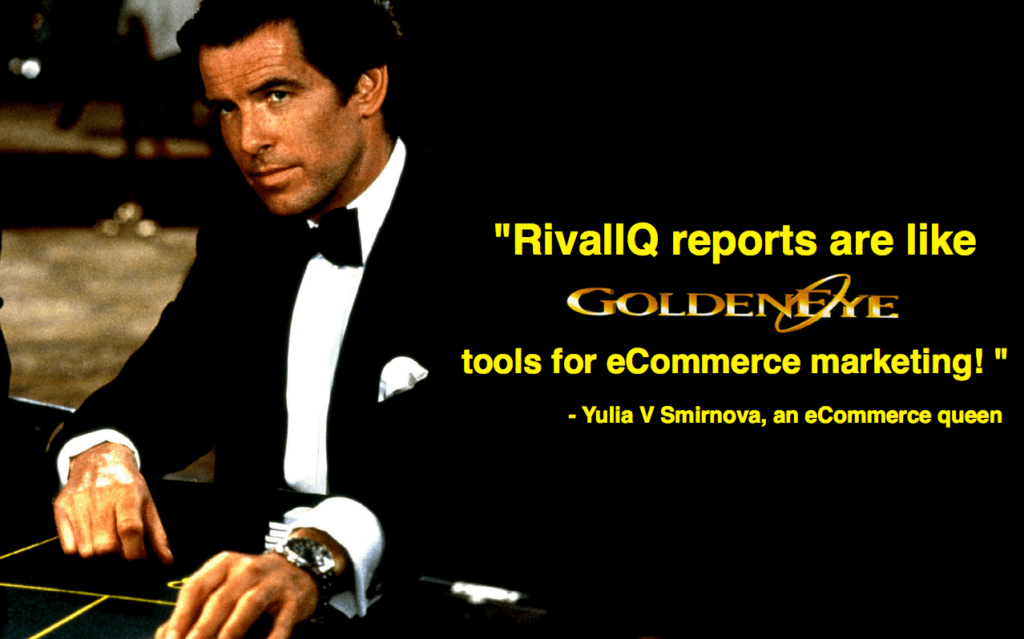 Although I discovered Rival IQ back in early June, and gladly shared it with other eCommerce entrepreneurs and companies at the Internet Retailer (IRCE) event, I discovered so much more as I dug deeper into the reports for my new work. In fact, I am in love with it, as it opens up so many insights on what you can do for your ecommerce marketing based on the successes (or failures) of your competitors or aspired brands.
The Need for Competitive Online Intelligence & Analysis
Why do we need to conduct intelligence and analysis of the online presence for sites we want to steal sales from?  Because, at the core of any good ecommerce marketing, is solid market research. You want to know what works, what topics your competition covers, and what messages they share with their fans and followers.
You want to soak up all that goodness and spot opportunities for your brand or site to shine. It works for those eCommerce startups that are just launching or for those that are starting to take their digital marketing more seriously.
Rival IQ reports specifically allows you to do so fast, and uncover engagement rates (micro-conversions) of all organic marketing initiatives that drive traffic to a given ecommerce site.  Plus, the golden nuggets you find for organic search can easily be applied for paid campaigns. What not to like?
My steps to winning the ecommerce marketing battle using Rival IQ
1.  Set up your competitive Market Landscape
You set-up your landscape by picking the top 5 or more sites you want to collect intelligence on and benchmark yourself against. This takes seconds, and once set-up (and validated by Rival IQ), you can immediately start diving in to the set of curated and detailed reports that are like "open Sesame" doors to excellent marketing for any eCommerce site.  For this, I set-up a landscape of eyewear online retailers.

2.  Review the Social Channel Matrix
I always start with this simple report, as it gives me a quick view on "who is who in my landscape" and who is "big guns" versus an "amateur" across channels.  The matrix shows you quickly in one place where your competitors are playing across six key social channels. Ditto and Glasses.com are clearly missing out on YouTube and Instagram.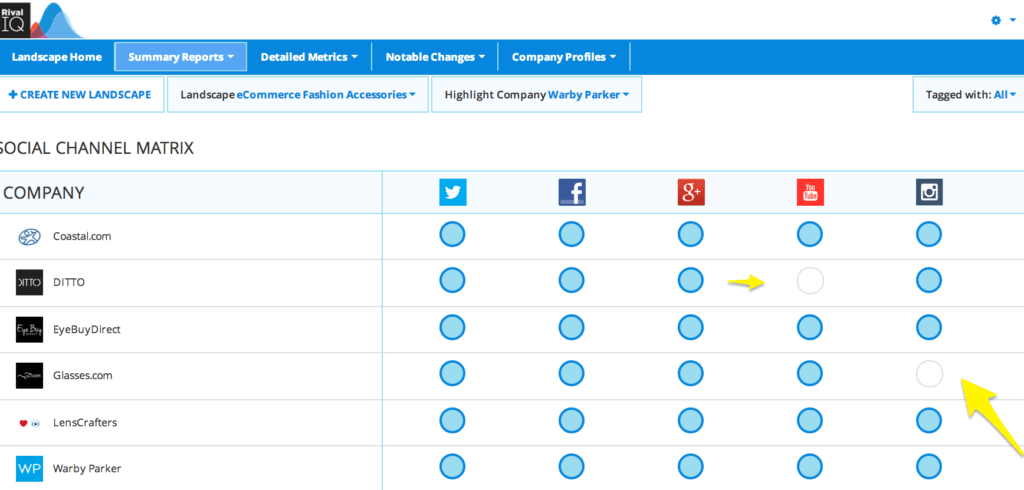 3.  Dive into Detailed Metrics & Social Activity
Then, I go deeper and spot a channel prevalence or domination in the Social Activity report. This tells me what channel might be working well for a given site; based on how much effort they are investing in it. Clearly, Twitter dominates for all – so I immediately know Twitter is a must have if I'm competing against these sites.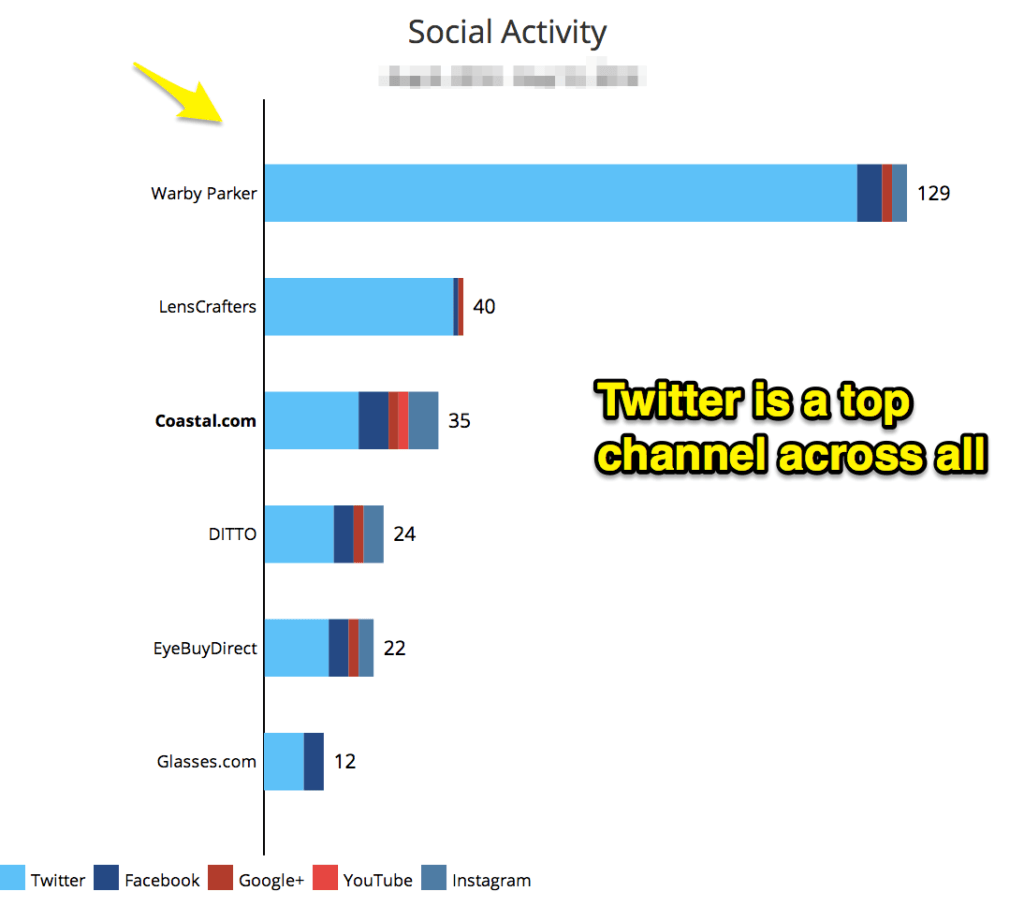 Based on this, I then will dig into each social channel to see details on how much effort they put into their activity.  Since I know Twitter is critical, I started with this channel.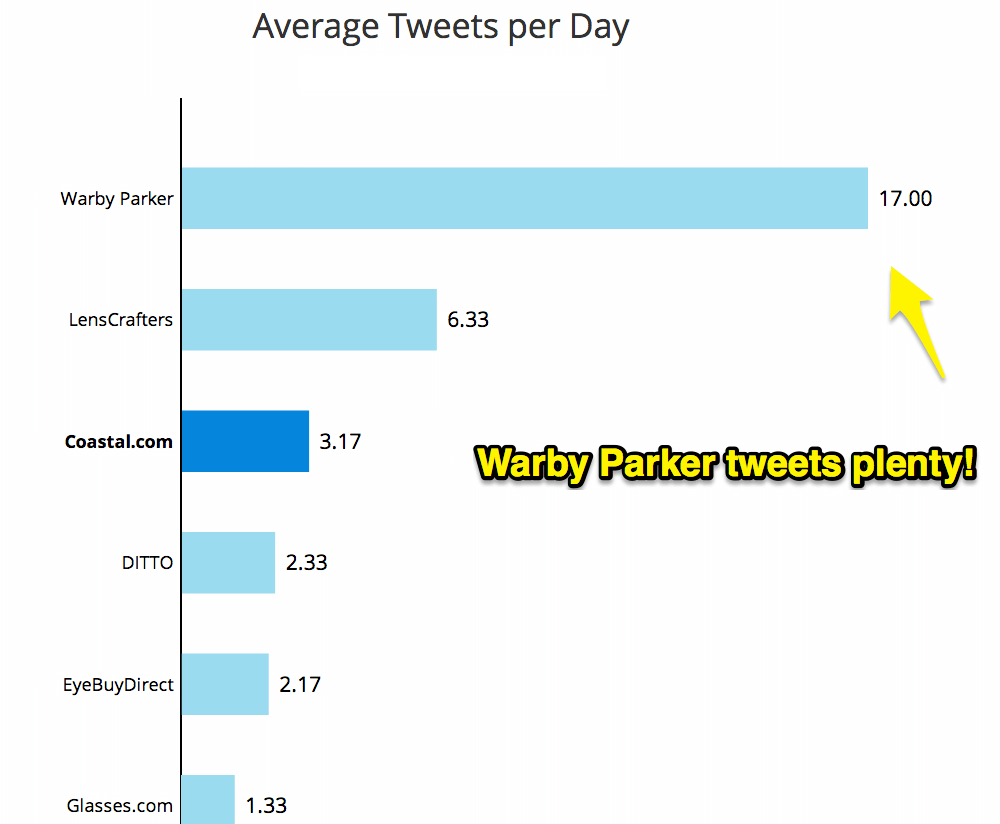 Next I want to see the growth of activity, so I go to the curated report showing activity change for averages posts per day.  In this case, I'm looking at Instagram.  Coastal.com is giving Instagram a lot of attention!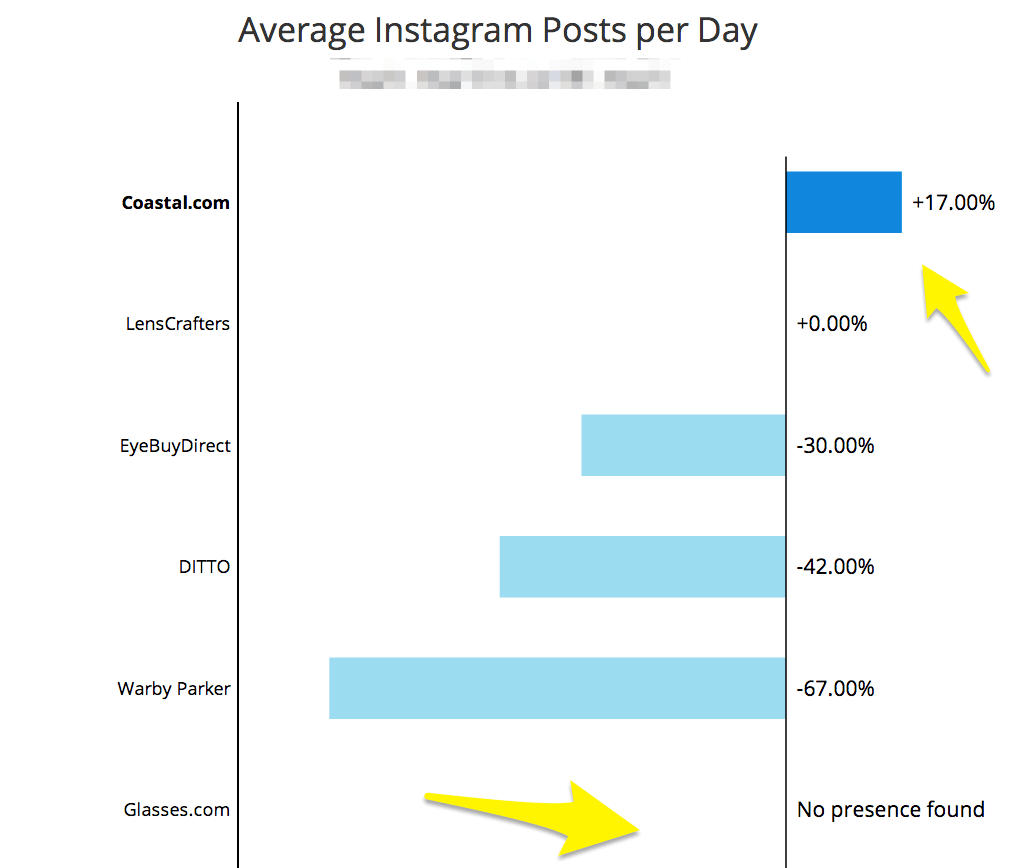 After I get clarity who is really focused on this channel and who is just faking it (has a handle but not doing much), I look closer into the activity itself and dig into the actual content to see what they are posting and if they are getting engagement.
4.  Learn from Top Social Content
Top Social Content (under Summary Reports) is my favorite report, as it gives me the stats on performance for each specific post on any channel over the last 90 days (or you can change the date range to be 7 days, 30 days or whatever you want!).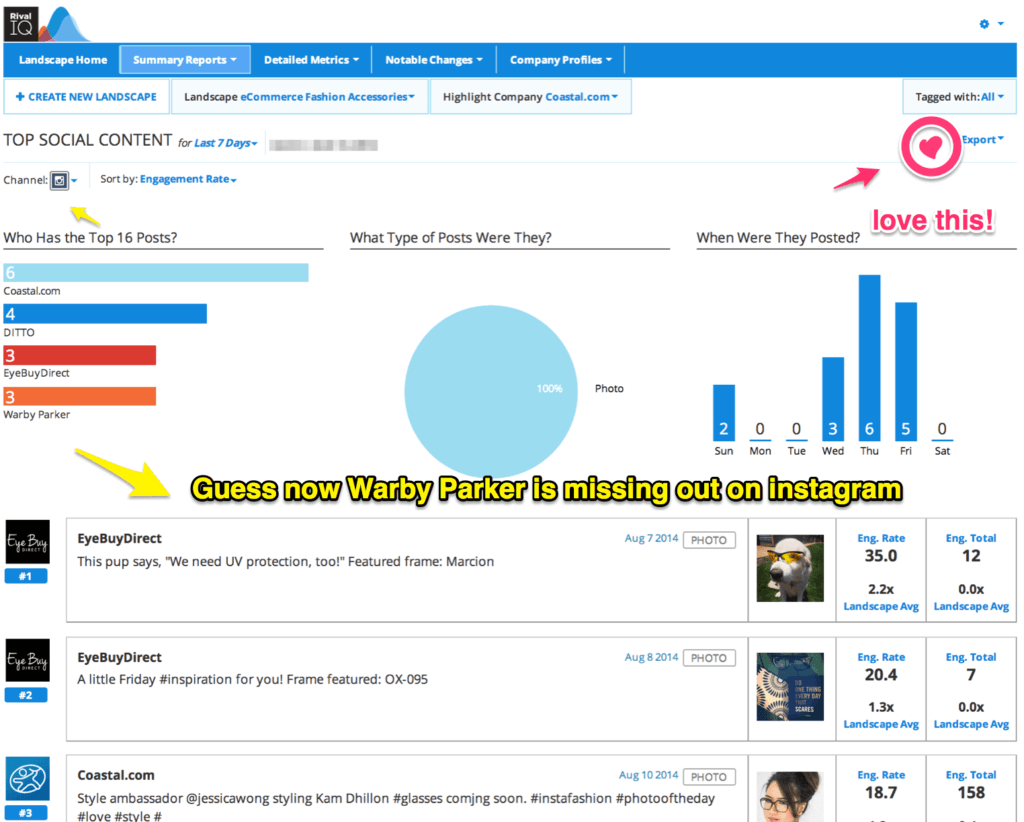 You can create your own editorial calendar based on the top performers! I love the export ability so I can massage the posts quickly and easily for my own activity.
5.  Evaluate Quantity vs Quality
You can also see how activity and engagement go together on this chart that creates a matrix of number of posts versus level of engagement (likes, favorites, etc.) This chart below shows YouTube, where you can see Glasses.com is in the lead with not only strong activity but millions of views of that content!
6.  Analyze SEO Keyword Rankings
This is a good report to both validate or learn what organic keywords you are doing great with and where you need to pour your content juice on!  Of great value here are the analytics that show what keyword phrases your competitors are ranking high on that you aren't.
There's also a report showing keywords in common across your landscape, so you can see what terms you and your competitors are fighting over in organic search.  You can use this to make critical updates to your site and blog as well as use target keywords in your social content and PR.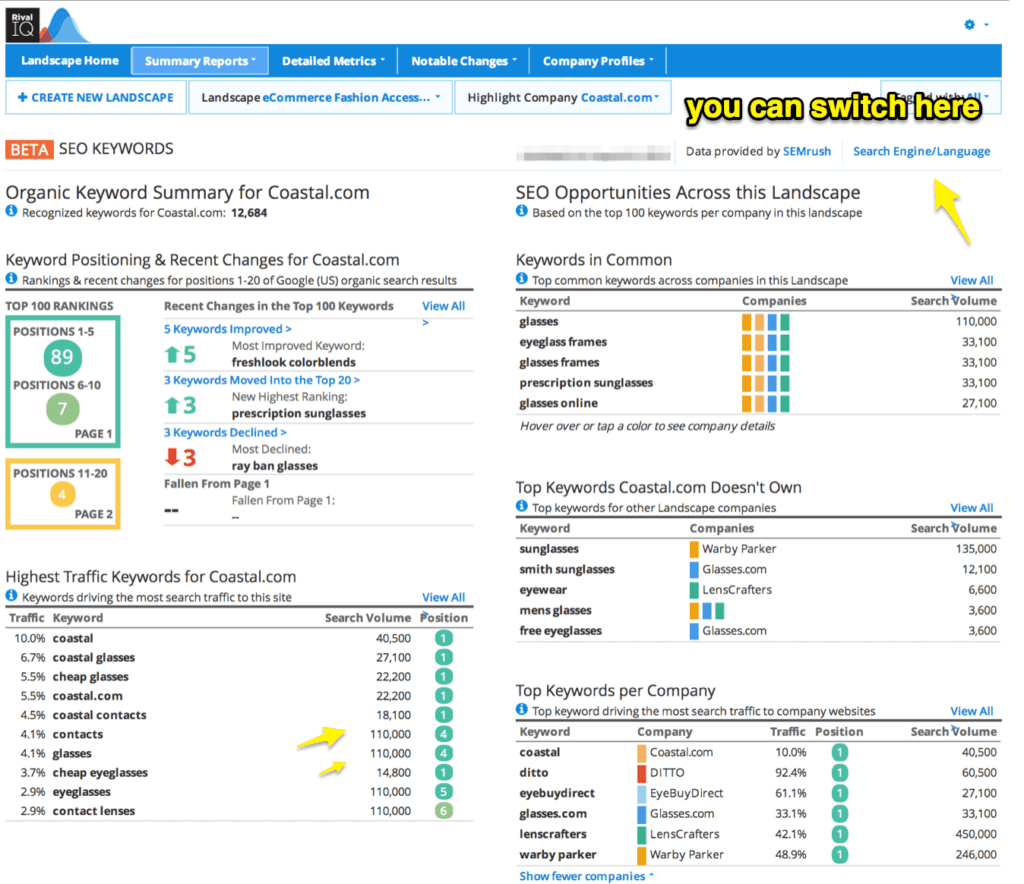 You can even set a country of your choice for the data and choose another search engine like Bing. Yet, for some reason you can only do it once. I wish I can flip around the data, so Rival IQ PMs, please fix that!
7.  Be first to know Competitive Changes
The Notable Activity reports help you see small changes on competitors' social channels and the site. So, for example, if a competitor changes its meta description or social media positioning, you can see it here (you can also get an email alert telling you this happened).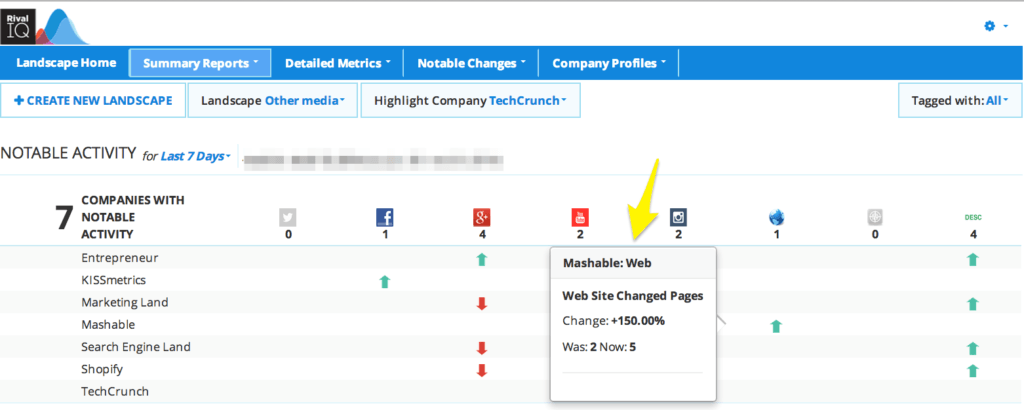 I like it more for tracking the shopping experience changes or even conversion testing lessons that impact design, yet you can also do so for the language and messaging on social channels. Below, we see that Mashable did some site changes lately.

There's also a Website Changes report, which specifically shows what was changed on a given page.  Rival IQ can track any number of Web pages of your competitors' sites and then show you and tell you when a change occurs.
 8.  Reveal competitors' follower campaigns
There are several reports in Rival IQ where you can see current number of followers/fans for any given channel at any given date.  In addition, you can gain historical insights of user/subscriber growth over time using the Social Audience reports. I love the 90 day date spread for that. You can use the preset charts, or create your own by exporting into Excel.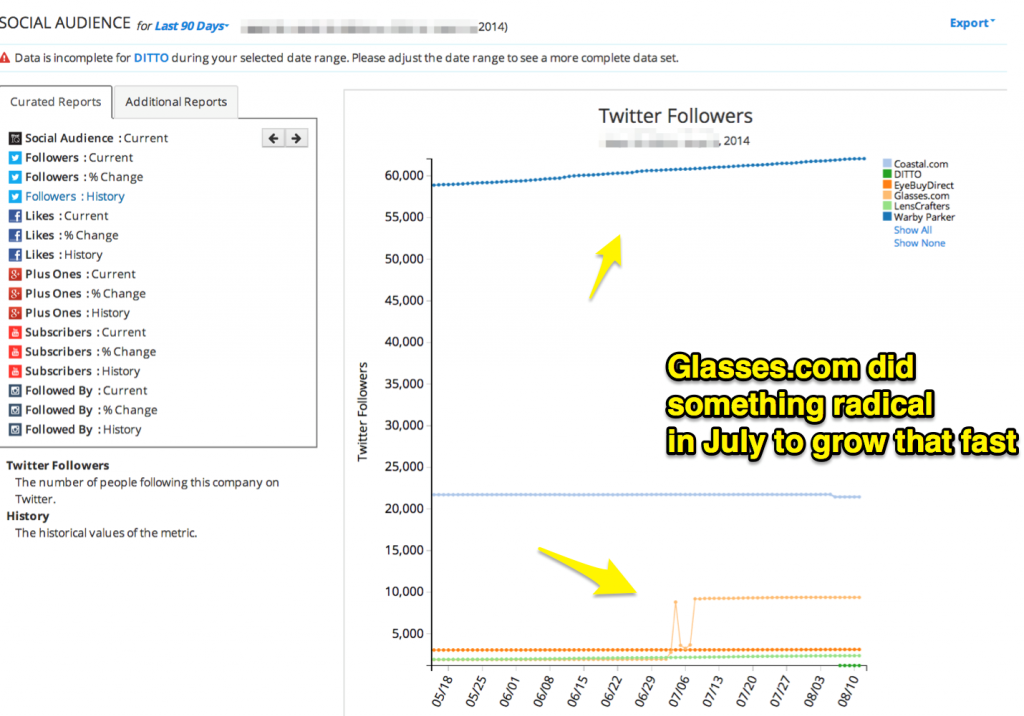 9.  Research & Report on Social Positioning
Rival IQ goes beyond data to provide content analysis both of social posts and Website content, and it also allows you to see each companies branding and positioning.  The Social Positioning report (and the SEO positioning report) shows you the language, messaging and value proposition each site is using to communicate to customers. You can use this to make sure your positioning and messaging is both relevant and differentiated from the competition.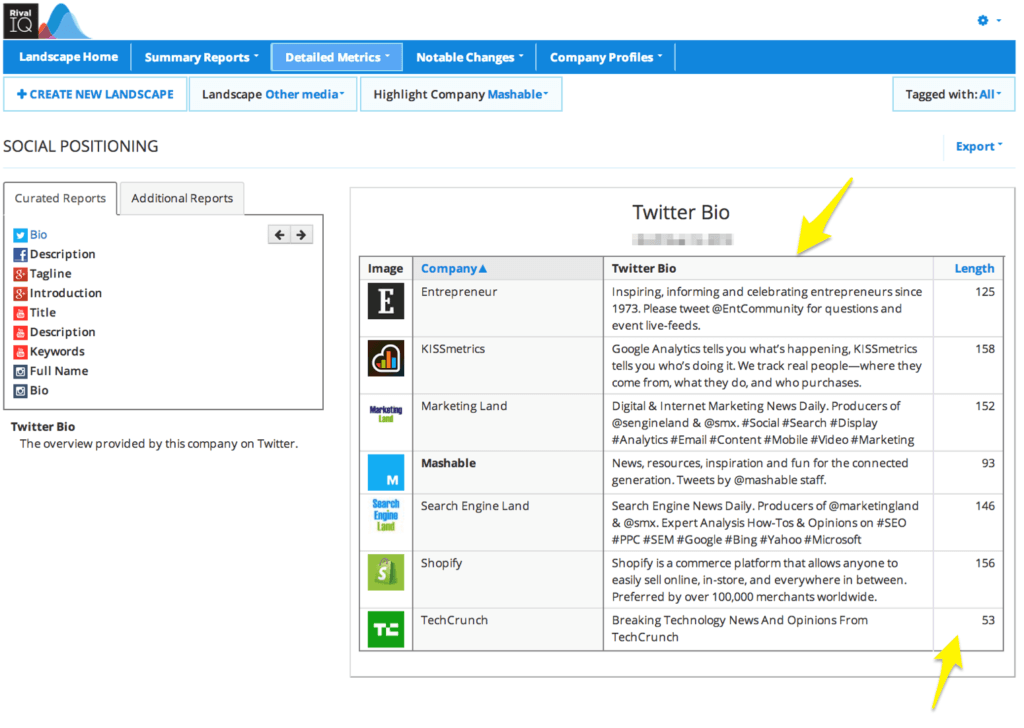 10. Use these Analytics to Win Customers!
This is just a taste of what digital marketing analytics can do to help you understand your competition and start evolving your social media, SEO content and overall ecommerce marketing strategy to win!  Even James Bond would get excited seeing those nuggets revealed, seriously!
By running these reports for 7 days and 90 days you get a ton of performance stats for a given competitor set (or sites of interest), which would make your content marketing and any other online marketing campaigns much stronger if you apply what you learn.
The key benefit is the historical data of successes and failures that you can easily see and learn from to improve the conversion rates for your eCommerce marketing across channels.
You can try getting the same data manually, but who has the time?
Next steps for great ecommerce marketing . . .
You can start today creating your own competitive landscape and gathering great intelligence. (Just tell them Yulia sent you!)
To learn more on how to apply those insights, what tools to use to craft campaigns and execute them at scale for eCommerce, see more in my book, "Grow And Scale Your Online Store To Profit."
Because any good market research is useless, unless you do something with it!